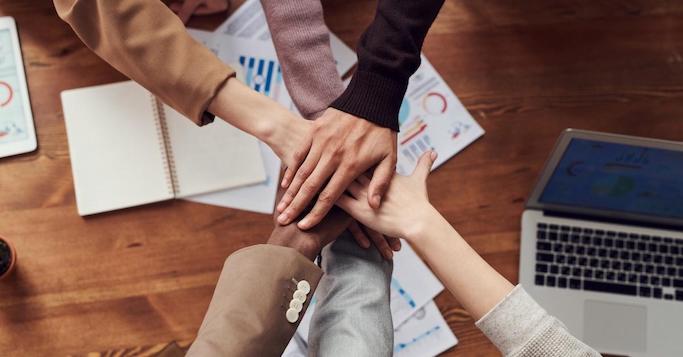 Rarely have two successive forecasts been so different: in December 2019, the Munich-based Ifo Institute for Economic Research predicted that the German economy would continue to grow in 2020 – by 1.1 per cent! This made sense because the world barely knew about the coronavirus in December 2019. It is due to its massive spread and the necessary shutdown measures in large parts of Europe that the mid-March 2020 forecast of the Munich-based institute was completely different: the institute predicted an economic slump of a whopping 9.8 per cent in the second quarter and an overall contraction of the German economy of 1.5 per cent in the current calendar year. Recession definitely is the economic word of the hour.
Despite these figures, new things seem to be created, especially in the retail industry that has been hit particularly badly by the crisis: the situation makes people creative and new cooperations as well as exciting business models are emerging.
Necessity Is the Mother of Invention: What Companies Have to Do to Overcome the Crisis
Let's be honest: it is not just the coronavirus that weakens stationary retail in particular. It is the purchasing behaviour of people. It is changing. Instead of going to the convenience store around the corner, more and more people are using their smartphones to access the Internet and look for products there – from everyday necessities to unique designer furniture.
Even if they are in a shop and a local shopping experience has inspired them, for example trying on a piece of clothing or marvelling at a candlestand: comparing prices via mobile devices has become part of everyday life.
In order to survive, retailers need one thing in particular: creative ideas for alternative retail concepts. Whether it is restaurants offering food for takeaway or delivery, whether it is customers showing solidarity by purchasing vouchers, whether it is cooperation between different industries, offers on platforms such as eBay or Amazon, or photos of shop windows with social shopping options on Facebook or Instagram: it is always about thinking entrepreneurially, identifying and satisfying customer needs, striking the right chord and inspiring people. Those who didn't know how to do this while keeping their finger on the pulse of time already had a hard time before the Corona crisis.
Necessity Is the Mother of Invention: Examples of Cooperation
Whose profession is systemically relevant? As we have observed with astonishment in the last few weeks, it is mainly moderately paid jobs with an above-average proportion of women that are currently being appreciated as never before: employees in supermarkets, drugstores, nursing or care homes, and hospitals.
In many places, there was not enough staff available while nearby shops with employees with similar responsibilities had to close and put their staff on short-time working. Necessity is the mother of invention, even among industry giants. The example of McDonald's became known to a wide public because the fast food chain has allowed its employees to temporarily work for Aldi, a fellow major corporation.
However, the Corona crisis is also causing changes in other areas that would have been unthinkable until recently. The drugstore chains Rossmann and dm had made no bones about their rivalry for years, quite the opposite: the price war and the different marketing strategies partly took on bizarre forms. During this crisis, however, the competitors have worked together and have combined their marketing efforts to send a peaceful solidarity message via video.
While customers will undoubtedly continue to visit drugstores and grocery stores, fewer people are likely to feel the need to buy new shoes. If anything, they will most likely buy running shoes. The Berlin start-up wewantshoes.com has established itself as a kind of online fair/showroom platform for footwear. It cooperates with brands during the Corona crisis by giving them the opportunity to present their products on its online fair and marketing platforms for free.
Necessity Is the Mother of Invention: Examples of Creativity
Many smaller shops fear for their existence because they are dependent on stationary retail and on being found by customers offline. Now it is time to transfer this feeling of making an amazing discovery from analogue to digital. For this purpose, people use the hashtag #shoplocal on Instagram to encourage others to support small businesses during this difficult time.
Some shop owners have written very emotional texts in which they admit how much they miss the daily, genuine interaction with customers and why they gave up more secure jobs for fulfilling their dream of owning a café or a barber shop.
Besides these stories that obviously create emotional ties with customers, there are also many humorous attempts – for example in image design, where a crystal is used as a virus symbol in a shop that usually only sells plants, or by developing special delivery methods that allow people who would otherwise stand behind the counter to talk to their customers on a one-to-one basis and clink glasses under the open sky without having to wear face masks.
The main thing is that customers feel taken seriously, well informed, excited and – even via digital channels – inspired to stay loyal to entrepreneurs who offer more than just the best price.
Necessity Is the Mother of Invention: Using Digital Solutions
Taking your work computer home? Advising customers while working from home? Installing Zoom or at least Skype? Remote business is booming. And this is actually the most important advice we currently have for you: use existing technologies, tweak your attitude and digitise your business. Every crisis is an opportunity, and for companies, this opportunity clearly lies in digitising their business. As the forecasts of economic institutes indicate: a downswing is always followed by an upswing.
Our 5 Reading Tips Of The Week
Konjunktureinbruch in Deutschland [FAZ]
Was Händler jetzt draufhaben müssen [ZUKUNFT DES EINKAUFENS]
Firmen kooperieren in der Krise [absatzwirtschaft]
Mit Kreativität das Beste aus der Situation machen [OnlineMarketing.de]