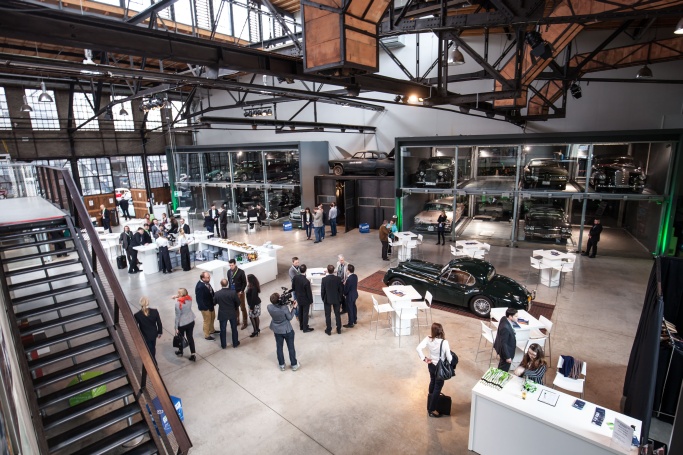 dotSource is entering its tenth year and those who know us know that enough happens in one year to last for two. That is why it was high time for our first client day, and, without being wanting to be too smug, it went really well.
Together with our clients and speakers Dr. Lea Sonderegger (Swarovski), Oliver Arp (hagebau) and Jochen Krisch (excitingcommerce.de) – Martin Groß-Albenhausen sadly had to cancel at the last minute – we had an interesting, but relaxing day. Personally, I thought that the atmosphere was comparable to that of our always familial e-commerce breakfasts.

The Classic Remise Düsseldorf was certainly also a factor. It is an impressive location which excited us and our guests.
After a greating from our CEOs, the day was opened by Dr. Lea Sonderegger and Oliver Arp. Both provided a accessable and detailed insights into their respective company's cross-channel strategies.
There were some big names in the audience and some good networking.


The talk by Jochen Krisch on jumps in digital trade followed the afternoon practical sessions. The organiser K5 shed light on growth strategies with examples from the fashion industry, and provided a perspective view on the billion-dollar market still waiting in e-commerce.
Pure-Player are walking away from stationary trade, even in their traditional segments @jkrisch at the #dskt15 pic.twitter.com/FgJlOAUmpd

— Cornelia Weiss (@Handelskraft) 26th of March 2015 «
The day ended with a podium discussion: "Digital Transformation as a Must of Longterm Business Success," which sadly could not determine what influence the weather has on online turnover 😉
An Exciting podium discussion and exchange of experience#dskt15 pic.twitter.com/bBoQVjdkst — Sascha Mihank (@saschamihank) 26th of March 2015 «
The end of the official part was followed by cool drinks and a performance by spoken-word artist Fabian Navarro. We had already started the previous evening with an easy-going warm-up:
Warm-up evening in http://t.co/RydcTpediU #dskt15 pic.twitter.com/xhkzzKyuYu — Cornelia Weiss (@Handelskraft) 25th of March 2015 «
We are thrilled to have had such a great day with our clients and can hardly wait to top it next year. What exactly are we planning? You can look forward to more info coming soon!
A successful event. The dotSource Clients's Day "@Handelskraft: The great backdrop again #dskt15 pic.twitter.com/S6iiCkHaOz"

— MERA Tiernahrung (@MERATiernahrung) 26th of March 2015 «