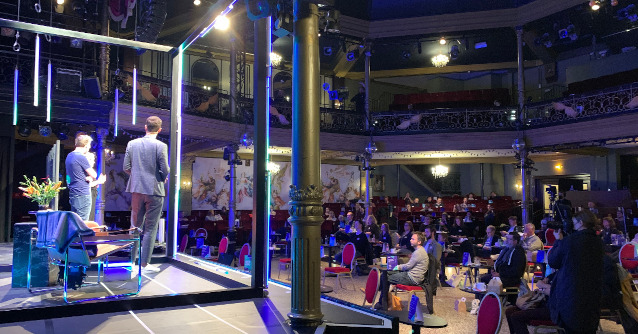 Remember when it was completely normal to invest two full working days in attending a one-day conference? Planning arrival and departure, checking the venue, booking a hotel room. After nearly one and a half years in pandemic mode, the organisational tasks before starting a trip almost seem a little disconcerting. Working from home and only seeing our colleagues on a computer screen is something we have all got along pretty well with.
So why change anything about digital conferences, which, just like lectures and meetings, can also be held online? Is it worth attending a conference in person or is there no noticeable added value when compared to watching a live stream? These are the questions dotSource marketer Sam asked himself during his visit to the NEXT Conference in Hamburg.
Hybrid Conferences: The Challenge of Getting There
I will be honest: When I found the invitation to the NEXT Conference 2021 in my inbox at the beginning of September, I was hooked right away. Finally a real event after months full of remote meetings and webinars. I deliberately decided to go to Hamburg and not to sit in front of my computer screen, which would have been more comfortable.
Since it did not seem like a good alternative to spend five hours alone in a car, not only from an environmental point of view, I went ahead and travelled by train. After changing trains, a short stop in Göttingen and sitting on the exit stairs of an overcrowded ICE train to Hamburg, the first doubts arose: »Is all the effort worth it just to listen to a few speeches?«
Hybrid Conferences: COVID-19 Style Check-In and Analogue Feel-Good Atmosphere
The following day, it was finally time for the long-awaited conference after so many days of being offline. I registered online, waited for my COVID-19 test result and went to Schmidts Tivoli theatre, where contact tracing was handled in an exemplary manner.
With a goodie bag over my shoulder and an admission band on my wrist, I stood there ready for my first conference in almost 100 weeks. Even before the hosts walked onto the stage, it became clear what added value attending an analogue conference offers: you are right where the action is and not just on the sidelines – and as I sat there with my care package full of snacks, music in my ears and lighting effects in front of my eyes, I realised why it is not (yet) possible to convey this experience online.
Hybrid Conferences: Fully Focused
Even during the speeches, one thing became clear: If I had been in the office at that time, a chat message, a call or another browser tab would have immediately pulled me out of my virtual conference environment. The hosts, who spoke about new future trends and sustainability, also appreciated the fact that this is quite different at face-to-face events. Real applause from the stands instead of thumbs up in the chat just feels so much better on both sides.
Hybrid Conferences: Bringing Together Live and Online for Real Added Value
Funnily enough, I only ever realised that a significantly larger number of people were watching the conference via live stream when it was mentioned explicitly. Somehow, I could not get rid of the feeling that there were more things separating the online and the live audience than connecting them. I consider breaking through this barrier to be one of the biggest challenges of upcoming hybrid conferences.
Inspired by a session showcasing holoride (an Audi spin-off), I took the opportunity to have an exclusive test drive in the Audi e-tron – an experience that online-only events definitely cannot offer; and so I sat in the car, wearing a VR headset and fighting against virtual attackers with two controllers in my hands.
Hybrid Conferences: Why They Are Worth It
With the get-together coming up after the sessions, I suddenly realised that my short offline conference experience was about to come to an abrupt end – I had decided to return home early when planning my trip. One thing is for sure: At the next analogue conference, I will certainly not turn down opportunities to network – another clear advantage over online-only events.
Finally, I want to answer my question as to whether all the effort is worth it: Yes, it is!
Not so much because of the speeches, but rather because of the experience, which has become a real luxury in times of COVID-19 and remote events. Those who are only interested in the content will find that attending conferences online is the faster, cheaper and more climate-neutral option. However, organisers who want to inspire visitors at face-to-face events in the long term must create real added value and experiences. After all, one thing should have been clear to us long before the pandemic: we do not have to drive across Germany to show each other PowerPoint presentations.
Our 5 Reading Tips of the Week
The Future of Events Is Hybrid [Forbes]
The Future of Event Marketing: Hybrid Events Will Be a COVID-19 Legacy [GingerMay]
Live, Virtual or Hybrid Events – Which Approach Is Best? [The National Press Club]
What Does the Future of the Events Industry Look Like? [Fresh Productions]
Hybrid Events Are the Future: Here's Why and How to Host One Today [Whereby]