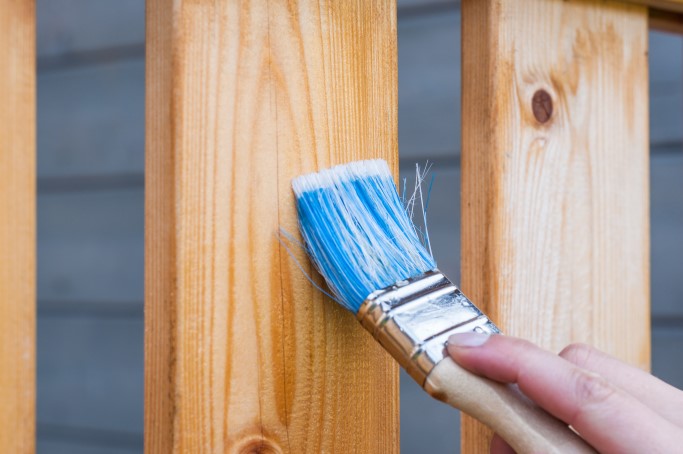 Now that the good weather has come to stay, it is the moment to tune private gardens and houses to enjoy the outdoors. The search for colourful flowers and appropriate flower pots is endless. Balconies are decked out with trendy decorative objects. New furniture is needed for spending the most memorable nights by moonlight and grills are the star products.

Many of these purchases are made online but how solid is the digitalisation of German DIY stores? How is the DIY online sector evolving? Who are the leaders and what are the pain points?
DIY – Reaching digital maturity?
Good news indicates that e-commerce continues to be an important growth driver. According to the HDE Online Monitor, German online retail will increase its turnover by ten per cent to 48.7 billion Euros in 2017. This corresponds to almost 10 per cent of the whole German retail's revenue, which is expected to reach the figure of 493 billion Euros in 2017.

If we zoom in on the German online retail's cake, it can be observed that the markets with more online presence are: consumer electronics (25.7 %), fashion and accessories (23.5 %) and leisure time and hobbies (22.9 %). In contrast to that, DIY is the second lowest market (4.6 %) only ahead of FMCG (1.7 %).
Despite of occupying one of the last positions in the ranking because of being latecomers, the DIY market has experienced the greatest growth rate over the last years, according to the mentioned study.
That can be entirely explained by the high degree of digital maturity already reached by more than half of DIY online stores (55 %). At least this is what the latest EHI study "Onlineshop-Maturity-Index 2017 – Baumärkte" revealed.
Top 10 – DIY online retail stores
The online shop maturity index (OMI) analysed to what extent DIY online stores deliver a world-class shopping experience. Those online shops that scored above 100 out of 150 points are labelled as "shopping highlights", while those with a score between 80 and 99 points (35 %) are labelled as "fine shopping experience". The remaining ten per cent of the surveyed online shops at least meet all standard requirements.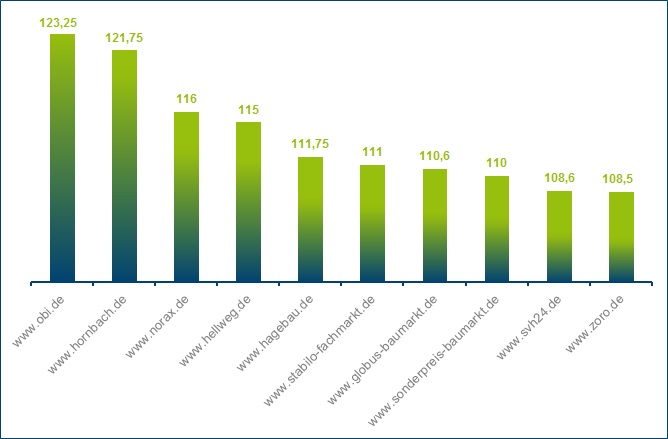 The whole ranking is shown above. On top of the podium is OBI's online shop (123.25 OMI points), followed by Hornbach.de (121.75 OMI points) and Norax.de (116 OMI points).
Omnichannel – still an unresolved issue
The top 10 stand out in two core areas: ordering (93 % of accuracy) and search (89 % accuracy). Additionally, the best 10 online shops did their homework concerning user-friendly experience well (as they achieved 75 % of accuracy).
In this context we recall the success of our client Garten XXL, whom ECC Köln awarded the first place within the DIY segment at the Online Handels Awards early this year.
However, all that glitters is not gold. Despite the fact that omnichannel has taken root, the majority of the tenth best DIY online stores failed in delivering seamless shopping experiences across channels. This is a problem that can be extrapolated to the entire retail. Companies should understand that the customer behaviour is changing towards omnichannel. The different stages of the customer journey can be passed in store or via mobile or desktop interchangeably.
It is therefore imperative that companies start to meet these new demands by offering not only online and offline channels, but also a smooth interconnection between the two worlds. Would you like to learn more?
Our 5 Reading Tips of the Week
Verizon Ventures Invested In This DIY Website for Millennials [Fortune]
Obi, Hornbach, Hellweg – wer ist der Beste? [Bild]
Blog: Why is the DIY sector so behind the multichannel curve? [Retail-Week]
BauBaumarktkonzern Hornbach legt Bilanz vor [Focus Online]