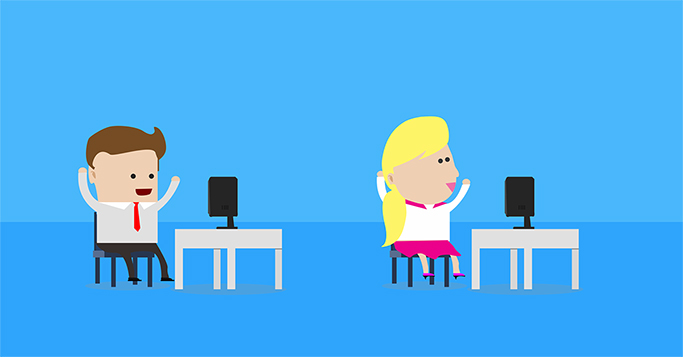 It is already clear now that there will be changes and innovations in everyday working life in the future. Flexible working hours, working from home and switching to digital business models are options that many companies had already integrated into their business before COVID-19. However, these innovations will be less of an option and more of a prerequisite in the future of modern companies.
It is thus recommended to think about the future today and to deal with the question of what the everyday working life will look like after the pandemic and what this means for employees. To take a look into the future, the IT service provider Tata Consultancy Services has recently proposed a number of central theses that define an outlook for the times to come.
Focus on the Physical and Mental Health of Employees After the Corona Crisis
Even long after the end of the pandemic, returning to open-plan offices will not only be uncomfortable for many employees, but also a high risk for many employers.
The last few months have created a bigger awareness of one's own health and the health of fellow human beings. This is a positive aspect that should be drawn from the pandemic and used to develop a clear corporate strategy.
In addition, executives will have to deal more closely with the concerns and fears of their employees and mental concerns such as existential fears caused by the crisis will have to be perceived more strongly and signalled earlier.
Working from Home Even After It Is No Longer Mandatory: Remote Work as a Prerequisite, Not an Exception
Within a few days, companies all over the world had to shift their business from the office to the homes of their employees. This presented an enormous technical and organisational challenge.
Numerous examples have already proven that the transition to remote work can be successful. Many people will certainly return to factories and production facilities, but companies whose staff works in an office and in front of a computer will have to grant their employees the right to work from home in the future, too.
For example, 90 per cent of the 448,000 employees of the IT service provider TCS currently work from home. The company assumes that its employees will only spend 25 per cent of their working time in the office by 2025. According to this, companies that are already creating the prerequisites for safe and productive working conditions at home will have a considerable competitive advantage over others in the future.
Digital Business Models Will Become the Only Business Model After the Pandemic
It has already become apparent in recent decades that products and services have almost become completely digital: media, financial services, cameras or cards – just to name a few. For reasons of safety and convenience, the pandemic accelerates the consumption of digital goods. At the same time, this raises the question of whether the physical versions of these goods will even be able to survive in the future.
The transition to fully digital business models in the banking, insurance, medical and retail sectors could be seen as an opportunity in the current situation. In order to continue to offer physical products and services, companies will have to expand their customer service and know how to improve the technology of their products, for example by developing their AI. Companies that have so far not been able to digitise their products as much as others will now have to think about this in order to remain competitive in the longer term.
Transparent Supply Chains After the Boom in Orders
Due to the coronavirus pandemic, the number of orders and deliveries has skyrocketed. The shopping mania will most likely continue beyond the pandemic as it is a more convenient and cost-effective alternative to visiting retail stores.
The fact that coherent and transparent tracking of deliveries is becoming increasingly important is particularly noticeable in the »last mile« of the supply chain: the delivery on site. It is thus particularly recommended for online retailers to use sensors in packages and delivery vans to enable minute-by-minute tracking and to optimise payment processes in a transparent and contactless manner. This also helps to prevent the theft of goods.
Finally, the question arises as to how long it may take before »normality« returns to our everyday and working lives. Numerous changes in recent months will remain in place beyond the pandemic. This means that there will probably not be a return to the »old« life, but rather a new normality: the »New Normal«.
Our 5 Reading Tips Of The Week
The New Normal [TCS]
Remote work: A series of best practices for a remote workplace [GitHub]
Digitale Lieferketten sind transparenter [springerlink]
Post-Corona schneidet alte Zöpfe ab [crn]
15 mind-blowing stats about artificial intelligence [CMO by Adobe]