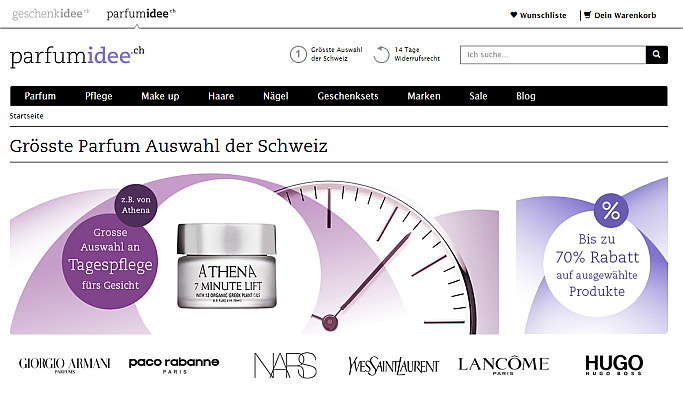 Up-to-date, user-friendly, and high in performance – Geschenkidee.ch GbmH had reached out to us with those requirements for their online shop parfumidee.ch. After the shop had reached its growth limits with its previous settings, Geschenkidee.ch GmbH was now looking for professional replacement and development.
Geschenkidee.ch GmbH is Switzerland's largest online supplier of gifts, home accessories, and lifestyle products and fully owned subsidiary of media company Ringier. Alongside well-known brands, such as Dior and Jil Sander, parfumidee.ch even offers products that are difficult to get hold of in Switzerland. These also include brands like Shiseido, Vera Wang, Bobbi Brown, and Nars.

All measures taken for international growth
The technical adjustment allowed us to set the course for a successful future in international e-commerce and to optimise performance, data processing, and user experience.
The previous PHP-based system of Geschenkidee.ch GmbH had reached its limits especially in terms of performance. With the decision in favour of Magento Enterprise the choice fell on a functional and flexible e-commerce solution.
Major adjustments to the Magento standard were necessary in order to ensure that parfumidee.ch can manage even more items, users, and orders.
In the course of this we tackled the issues of performance and scaling. Long loading times at checkout belong to the major sales killers. After the launch those became markedly shorter. What's more, parfumidee.ch is now able to cope with a sudden influx of customers, for instance at Christmas or after a TV commercial.
The multi-store functionality of Magento Enterprise also paves the way for the integration of further online shops and regional divisions with the e-commerce system – an important step towards future growth.
Content customer, content team – shop no. 2 to follow soon
Besides the technical orientation towards further growth we also ensured that parfumidee.ch features an up-to-date usability and integrated our client's screen designs into the Magento template sets.
Yves Lüthi, Head of Product at Geschenkidee.ch GmbH, is highly satisfied with the collaboration:
» »The team's helpfulness and response time are fantastic. We felt perfectly looked after at every point. Even last minute requests and ideas were taken seriously and answered with constructive feedback.« «
Next up is the launch of the affiliate shop Geschenkidee.ch which will also be undergoing rejuvenation with Magento Enterprise.
You can find detailed information about the project as well as a comprehensive case study on our website.