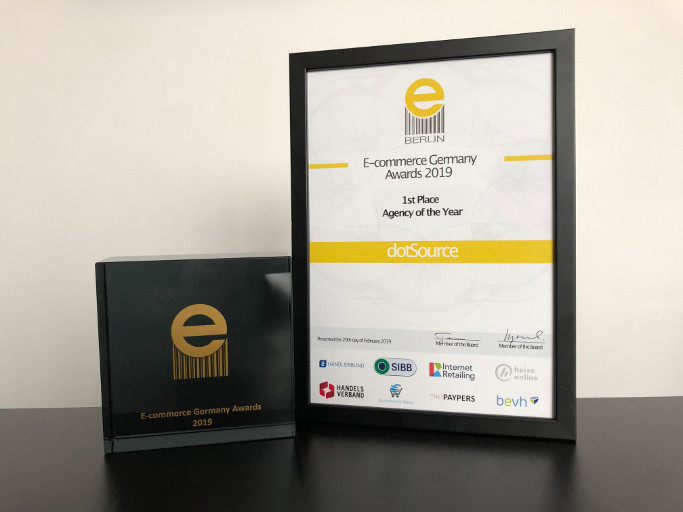 Wow! On Tuesday we were awarded the 2019 E-commerce Germany Award in the »Best Agency« category. We can now call ourselves »Agency of the Year«. We're so unbelievably excited that even some happy tears were shed and we couldn't be prouder.
Even if it seems trite and sounds like an award phrase, we owe this award to our satisfied clients, great partners, and last but not least 250 tirelessly digital employees. Being Agency of the Year is nothing short of an exorbitantly great community effort. Oh, yes!
Top panel rates dotSource as the best agency
There were more than 350 nominations in ten categories at the E-commerce Germany Awards 2019, which were presented on the eve of the Berlin E-Commerce Expo. As with the Expo itself, the focus of the awards is clearly on the factors of successful online retail. Solutions and companies in the areas of Platform/Shop Software, Payments, International Expansion, Analytics/BI Solution, Customer Communication Tool, Sales Generating Tool, Logistics, IT and Infrastructural Solution, Innovation/New Development in E-Commerce, and Best Agency were also awarded.
The combination of online voting, where we took third place, and panel voting shows that we were able to convince the latter in particular. Among them were Allyouneed CMO Manfred Boy, Moebel24 CEO Miro Morczinek, Nestlé Head of Content & Platforms Markus Irmscher, and Kayak Brand Manager Maria Sirvent Mateo. In the overall standings, we were able to prevail against Solution 360 in second place and factor-a in third place.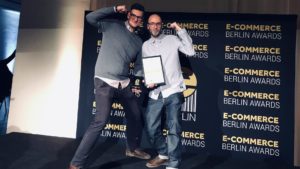 The discussions during the award event, as well as the breadth of the categories, show that successful interactive commerce needs to cover a lot of aspects nowadays. The basis remains a solid transaction and shop platform. We are pleased that our longtime partner Intershop was able to enjoy the evening as category winner with the »Platform / Shop System of the Year« award.
Meet with the Agency of the Year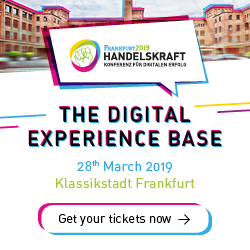 You can find out how trends turn into innovations at the Handelskraft Conference on the 28th of March at the Klassikstadt in Frankfurt am Main. And who better to create such an event than the Agency of the Year? Get your tickets and meet with our team of digital experts.
We invite all brands, retailers, and manufacturers to be there.
Click here for tickets.