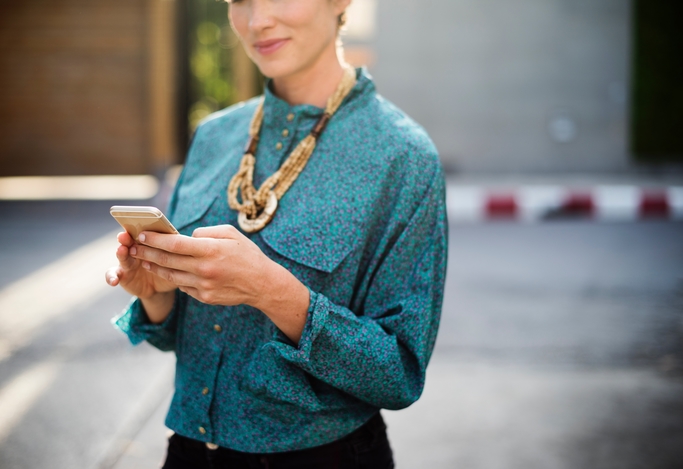 Moments of inspiration strike outside online shops, which is what distributed commerce takes advantage of. From Instagram to Facebook and Snapchat to TikTok, users on the platforms are reluctant to leave what they were doing just to buy something. So how can companies get on the feeds of hundreds, thousands, or even millions and get them to make a purchase? We'll take a look at some real-world examples.
What is distributed commerce?
In order to understand what this latest development is, it's best to start by laying a foundation of understanding. A basic principle of the concept is that consumers should be able to make a purchase directly from the content they are experiencing without having to go to another page, window, or tab. That means that users aren't having to stop what they're doing to make a purchase, most likely on a whim. And that's a win for consumers and businesses alike, since holding someone's attention for long periods of time is challenging.
It's already known that fewer clicks mean higher sales, and that's what distributed commerce is capitalising on. According to Business Insider:
» (Approximately) $4 trillion worth of merchandise were abandoned in online shopping carts in 2014. «
And with the growth of e-commerce in the last 5 years, that number has definitely grown.
Personalisation and context
Getting on the feeds of users is important, but also making sure that you're on the feed of the right consumers is even more important. If you're asking Siri what the weather's like, you probably want an answer for the city you're in and not somewhere else.
The same goes for products showing up on someone's sponsored posts on their Facebook feed, a man in his 50s is probably not looking for a floral day dress unless we've tracked through their behaviour that they've previously searched for the product and looked at it on the website. Creating personas and targets is key when creating distributed commerce offers. Personalisation matters.
What about non-sponsored posts?
Of course, people are also inspired by seeing content from their favourite brands that aren't sponsored. High engagement and retention should already be a goal for brands on social media and now it's becoming easier than ever to capitalise on such activity. Just take a look at ASOS for example. The London-based online fashion and cosmetic retailer has more than 8 million Instagram followers and almost 6 million Facebook likes. Berlin-based Zalando has over 600,000 Instagram followers and more than 6 million Facebook likes.
Although in theory, all the posts on their pages are advertisements, they also are looking for fans to engage with the brand. ASOS, for example, posts about Riverdale and what Archie and his friends might get on their store, but a quick look at the post might garner a like or share from a fan of the show who were following the brand but wouldn't interact with a post. Zalando, for example, takes advantage of drop culture by posting about the latest releases from Nike on their feed, informing streetwear enthusiasts and sneakerheads about the latest news. It also doesn't hurt that Zalando sells the latest release on their website.
Zalando and ASOS hard to relate to since they're so big? Look at NYC-based Billy! The brand's channels focus on behind the scenes look at what life is like at their NoHo office and how fans of the brand are showing off their goods on social media. By reposting what fans are sharing, they're looking at high engagement rates because people want to get featured on their next story or post. Candice Pool Neistat, the founder, already had a following on social media and from her jewelry business that helped her create this whole cult-like following of the brand.
And once followers of a brand start liking or tagging posts on platforms, their interests become known and trackable. It's in every brand's best interest that not all posts are blatant advertisements, as consumers are used to being bombarded with them on a daily basis and can easily filter them out.
From engagement to purchase
Thanks to product advertising on Facebook, Snapchat, and Instagram, it's possible to tag products or showcase them in a way that they can be bought directly within the apps or platforms themselves. All the aforementioned brands do that in some way on one or more of the platforms but Zalando took it a step further.
As early as 2016, Zalando realised in many cases that consumers weren't as likely to download their app and make a purchase but instead most often from a social link. So they wanted to figure out how to make the distributed commerce Zalando experience different from what others were already doing on social media. Thus, a pilot project was born.
Mobile-optimised versus mobile-only
The first step in distributed commerce they took was recognising that most of their customers are on the go and most often surf the web with their smartphones. So instead of just taking a website they already had and optimising it for mobile devices, Zalando also created distributed commerce landing pages that can only be accessed on mobile devices but are a separate entity.
Products can long be tagged on Instagram for purchase for users who are inspired by a post. ASOS brings users to the landing page of the product they're interested in, to the mobile-optimised ASOS website. Here, they have the ability to search for more products and look at their cart. When they're ready to make a purchase, they can view their cart, log in, and seal the deal.
Zalando does things a little differently. Instead of being brought to the mobile-optimised website, users are brought to a distributed commerce landing page. The biggest differences being:
The only product purchasable is the product selected from the social media post
The ability to "buy now" without adding to a shopping cart
The ability to purchase as a guest without logging in
These small but important changes make the shopping experience seamless and easy for any user. That means consumers will be more likely to make a purchase since the process is shortened and made easily.
Distributed commerce outside of social media
Of course, social media is just one place consumers are inspired by what they're seeing. In fact, many are getting inspired while they're watching Netflix or playing a game. And while in the US smart speaker ownership was only at 14% in 2017, that number almost doubled by the end of 2018 to 27%. Amazon clearly has the lead here by making their catalogue searchable through their Echo Devices powered by Alexa but as others enter the smart assistant market, voice search could play a role in how distributed commerce evolves over time.
Content commerce and distributed commerce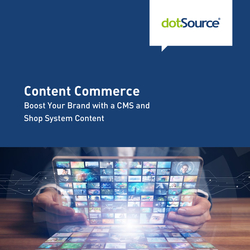 Distributed commerce can only be successful if the content that inspires a purchase is there. That's why we wrote our white paper "Content Commerce – Strengthen a brand with valuable CMS and shop system management". In this white paper we'll show you how to consolidate brand loyalty, improve your search engine rankings, increase conversion rates, and more. The white paper available for free to download here.