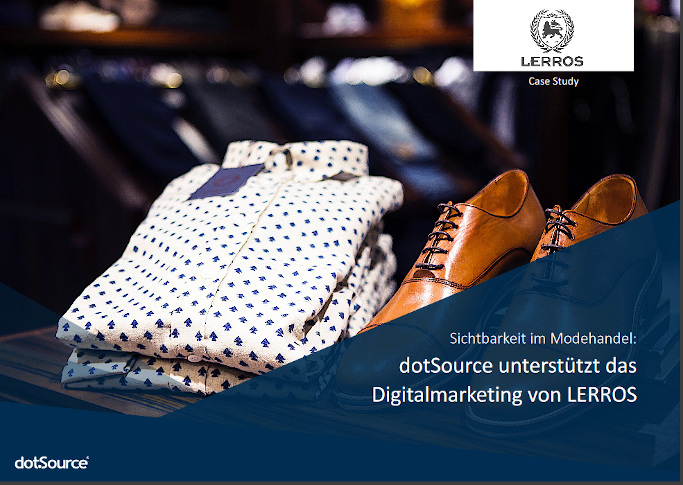 Attractiveness lies in the eye of the beholder. Those who clear out their wardrobe and ask themselves how they ever found some of the older pieces so beautiful that they spent money on them know this, too.
Fashion brands face this challenge time and time again: they have to offer something that customers find attractive and want to buy. But before they can do so, they must find a variety of ways – especially in the digital age – to be visible enough in order for customers to even come across their collection. In barely any other sector, the competition over online visibility is fiercer than in the fashion industry. The renowned German manufacturer LERROS Moden GmbH from Neuss in North Rhine-Westphalia is also presented with this challenge. So how has the renowned menswear brand managed to significantly increase its online visibility in a cost-effective manner?
Digital Marketing: Higher Visibility Without Exploding Costs
Since 2015, LERROS has been receiving professional consulting with the goal of expanding its own brand presence to numerous channels and optimising its brand image throughout the entire customer journey. In addition to increasing its brand awareness, the measures were to increase sales figures and the online shop's turnover as well.
To achieve these ambitious goals, dotSource and the fashion brand cooperated closely and, following an analysis of the status quo, took major measures to improve key figures.
Digital Marketing: SEO and SEA Are the Keywords
The analysis showed that LERROS had potential for optimisation, particularly in the field of search engine advertising. Online advertising that is displayed but does not have enough of an effect can be expensive. Following an initial SEA consulting session, concrete measures to optimise SEA were taken accordingly.
In addition, measures for more efficient product data marketing were taken and the areas of display advertising and web analysis were continually optimised as well.
Digital Marketing: Tidying Up Is Half the Battle
Within the framework of the cooperation, the digital marketing team of dotSource took care of the GoogleAds account. First of all, a professional clean-up was initiated and a multi-channel marketing tool was implemented afterwards.
Thanks to the support in digital marketing, LERROS Moden GmbH was able to considerably increase its online visibility and significantly improve its cost revenue ratio.
Digital Marketing Insights: Download the Case Study for Free!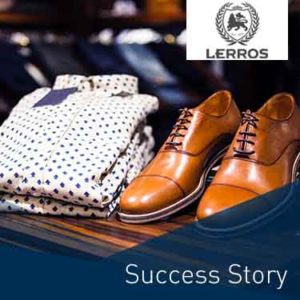 Do you want to know which measures dotSource has taken together with LERROS in order to not only permanently increase the visibility of the brand, but also to improve its cost revenue ratio in the long term? Find out more in our new Visibility in the Fashion Industry: dotSource Supports the Digital Marketing of LERROS case study.