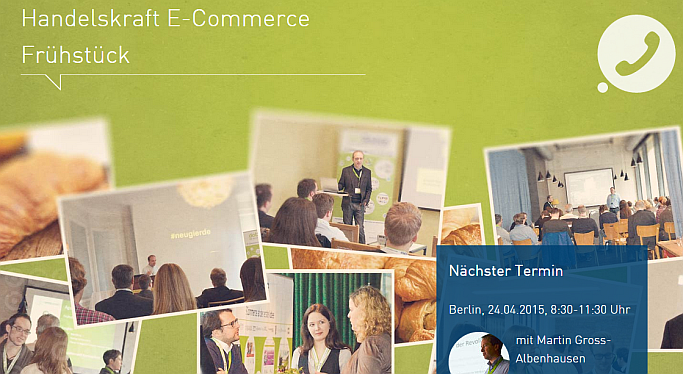 Our Handelskraft E-Commerce Frühstück once again led us to eight German cities and one in Switzerland, and brought manufacturers and traders together at one table. Our speakers included Alexander Graf, Jochen Krisch, Martin Groß-Albenhausen and and Roman Zenner, who led dicussions on the future of ditial trade with a total of over 100 guests from various branches.
None of these events was the same as the next, despite the tried and true mixture of networking, breakfast, social round, expert presentations and finale. Depending on the make-up of the group and the topics, which ranged from "B2B-Commerce: before the revolution" to "Surviving in an Amazon world", the event always brought interesting insights to light. This is what really makes us happy. Our home game in Thuringia's Jena was also a great success. The camera accompanied us year – so those who always wanted to know what happens at such a breakfast, can get an idea from our two video retrospectives.
We would like to thank all participants and speakers for their passionate discussion and Thorsten for the great videos.
We'll be breakfasting again in 2015
We are looking forward to four new breakfasts, two of which are timed to perfectly connect to well-known branch events. Dr. Kai Hudetz (IFH Cologne) Jochen Krisch (excitingcommerce.de) and Martin Groß-Albenhausen (bevh) will accompany us as spealers. A private breakfast will also take place for our regular clients.
24.04.2015 – Berlin, with Martin Gross-Albenhausen
10.09.2015 – München (before the K5), with Martin Groß-Albenhausen
15.09.2015 – Cologne (before the BE:INSIDE and dmexco), with Dr. Kai Hudetz
22.10.2015 – Zurich, with Jochen Krisch