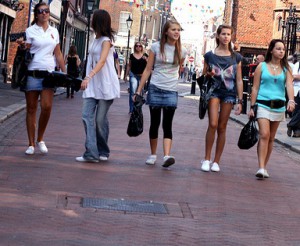 Multichannel is controversial, to put it mildly. Everyone who has dealt with online trade knows this. The taz column which came out recently, The next big thing im WTF-Marketing brings the concerns of critics to a point with a sharp tongue.
US magazine "The Atlantic" deals with tech future trends and was happy to take sides with multichannel advocates in the framework of the series Kids these days, which drew on the perspective of young people on shopping habits.

According to this, the "digital natives," those for whom buying via smart phone should theoretically be in their DNA, don't want to buy exclusively online. In a national survey, it turned out that 80% of young people do buy in the internet. However, when asked where they prefer to shop, stationary businesses were clearly ahead – with 78% of girls and 75% of boys.
Such findings are not only to be seen in the USA: already in September a study from Research Now und K&A Research made it clear that the multichannel concept functions well specially with young people. The ROPO effect is particularly observable in this age group.
Just as the fall of Facebook due to the failing interest of young people is expected, is the sun now rising for multichannel?