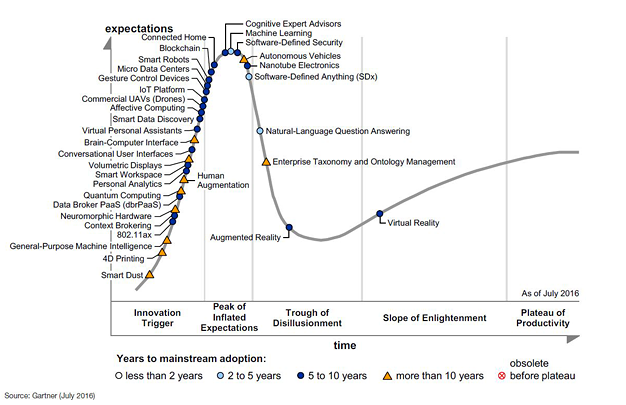 As every year, the information technology research company Gartner releases its "Hyper Cycle" in which the status of every technology trend is analysed. Have any of them already arrived to the productivity phase? Are any of the emerging technologies going to be adopted mainstream in less than two years? Have you already heard about the innovation triggers 4D Printing or Human Augmentation?


Currently the highest expectations are placed on the following technologies which are classified under the peak of inflated expectations phase: Cognitive Expert Advisors, Machine Learning, Software-Defined Security, Autonomous Vehicles, Nanotube Electronics and Software-Defined Anything (SDx).

The only one that progresses at fast speed towards the productive phase is Virtual Reality, according to Gartner. Noteworthy is the fact that Augmented Reality, despite of the big impact of Pokémon Go, has hardly moved forward in comparison with last year. Both sisters' technologies, however, advance steadily and firmly and are expected to be used widely in 5-10 years.

On the other hand, those technologies that are emerging strongly into the market and will be used as buzzwords by CIOs and business strategists are: Smart Dust, 4D Printing, Quantum Computing, Neuromorphic Hardware, Human Augmentation and Smart Workspace, among others.

Key trends
Apart from treating the new technology trends available in the market under different headings, it is also important to underline where these rising tendencies are heading in order to create a mental picture of what each one can bring to us. Therefore, Gartner identifies three key trends that organizations should take it into consideration to gain competitive advantage within the rapid digital business landscape. Those trends are:
Transparently immersive experiences. Technologies are increasingly melting people, businesses and things as technologies are becoming more adaptive, contextual, and fluid within all the spheres of our digital life.
We are commencing the perceptual smart machine age through which organizations can capitalise near-endless data and build deeper neural networks in order to solve problems and adapt to new circumstances.
We are assisting to the platform revolution through which technical infrastructure gives way to ecosystem-enabling platforms. This shift will drive new business models that will redefine the relationships between technology and humans, among other things.
Our 5 Reading Tips of the Week
DuoSkin: Smarte Tattoos mit NFC-Technologie
Mit dieser VR-App fährst du virtuell im Hyperloop
Airbus wants to make autonomous flying taxis by this time next year
How the International Olympic Committee is using technology to educate future host cities