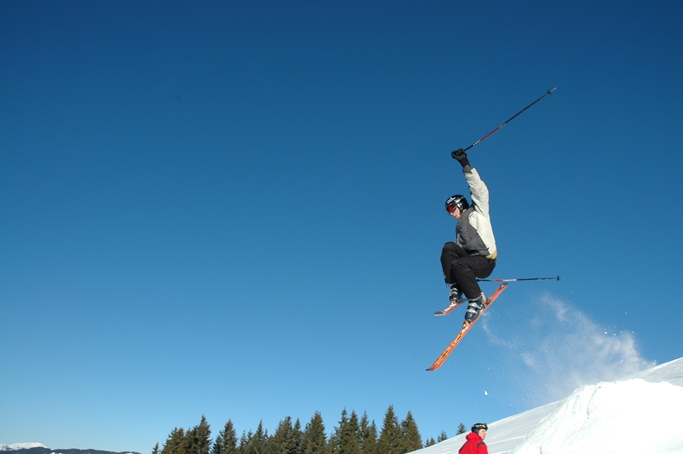 B2B and B2C marketers struggle to reach an audience increasingly more slippery but paradoxically more connected. In this context, mobile is driving interactions between organisations and their audiences and technology is having a critical role in enhancing the digital customer experience and, ultimately, in increasing conversions and sales.

As a result, inbound marketing is not only gaining prominence among marketers but also is making marketing strategies more effective, as inbound organisations are 4 times as likely to rate their marketing strategy highly.

Precisely, this is one of the main conclusions of the eight annual study "State of Inbound 2016" conducted by HubSpot, which aims to give a comprehensive overview of the main trends, strategies and challenges marketers and sales representatives face today as well as to provide relevant data to figure out how the marketing and sales' future will look like in an increasing mobile, technological and digital world. This report reflects the opinions of more than 4500 respondents (namely marketers and sales representatives) from 132 countries.


Top priorities in Marketing and Sales
The priorities for marketers remain relatively unchanged as "leads" continues to be the most holistic word for marketers. However, new concerns have emerged strongly. According to the report, the top marketing priorities over the next 12 months are: converting contacts/leads to customers (74%), growing traffic to their website (57%) – new in the report -, and increasing revenues derived from existing customers (46%).
Asked specifically about inbound marketing projects, 66 per cent of respondents give maximal priority to grow in SEO, what is directly connected to the importance marketers give to increase traffic to their websites. Blog content creation (60%) and content distribution (50%) continue to be the core inbound activities. A newcomer has also arrived at the top of the list, showing the increasing relevance of technology for marketers: marketing automation, a top priority for 44 per cent of respondents. See graphic below: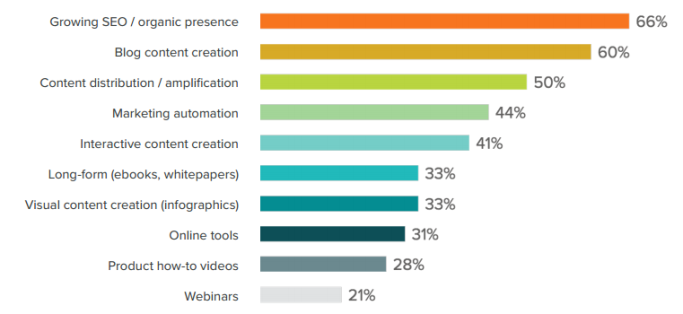 On the other hand, sales priorities are closing more deals (70%), improving the efficiency of the sales funnel (47%), and reducing the sales cycle (31%). However, in this point it is worth to indicate that social selling (28%) has experienced a promising increase of 6% y-o-y, what means that it is the fastest growing priority for salespeople.
Challenges in Marketing and Sales
Trial and error processes are still an outstanding issue, when tracking and measuring the results of marketing campaigns, since marketers still lack access to the relevant tools to do so effectively. It is not surprising that metrics of amount of traffic and leads generated (65%) and proving ROI (43%) are at the top of the marketing challenges list.
Talking about ROI, if you still doubt between calculate your ROI or not, the report is categorical:
» Those who can calculate ROI are 1.6x as likely to receive higher budgets." «

On the other hand, the survey also shows how tricky the beginning of the sales cycle for salespeople is. See graphic below: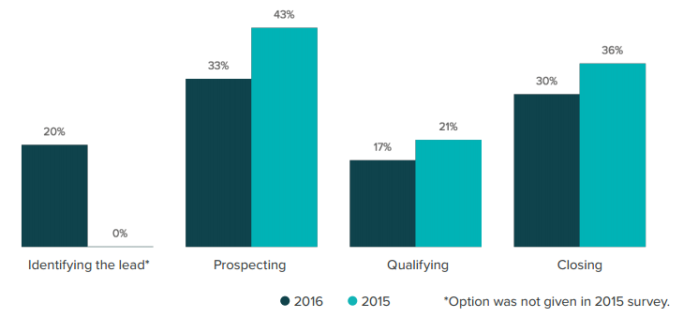 Furthermore, the report advocates the alignment of marketing and sales teams in order to succeed. In this sense, 82 per cent of those, who said that their marketing strategy is effective, have a very tightly aligned marketing and sales relationship. Similarly, active communication between both teams should be improved in order to optimise the quality and relevance of marketing-sourced leads for salespeople, as the marketing leads rank low in comparison with sales leads and referrals, according to the report.
The future of marketing is video
But in order to succeed, it is also essential that organisations are up-to-date so that the hottest trends can be integrated into the sales and marketing strategies. To this respect, new channels will be added in the next 12 months to reach customers where they effectively are. Any idea?
Without question, video, through Youtube (48%), and streaming, via Facebook live (39%) are the most popular content distribution channels among marketers, followed by Instagram (33%), messaging apps (20%), and podscasts (15%).
Our 5 Reading Tips of the Week
"Der Direktvertrieb profitiert vom Internet" [Internet World Business]
Google Is Grouping Keyword Volumes – What Does This Mean for SEO? [MOZ]
It's Tough to Make High-Quality Native Content [eMarketer]
3 ways to create customer-driven content [Marketing Insider Group]
Three big problems with marketing automation rules (and how to solve them) [Econsultancy]