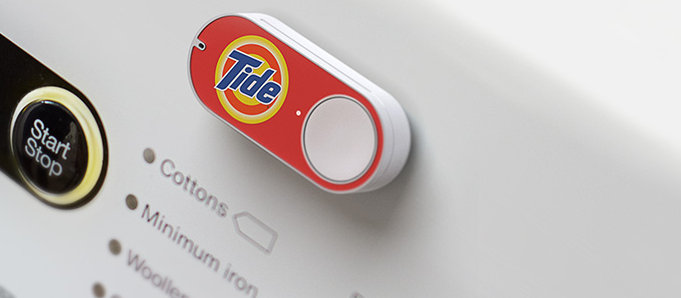 Amazon is once again hustling around and causing one news flash after another – 'business as usual' some might say. Bezos' gang itself is making sure that there is a destraction from workplace conflicts. Instead of focusing on striking workers, they want you to take a look at the new products, investments, and services of the online retailer more closely. Because they're causing the tears to run from stationary traders' eyes more than anything else, and are making sure that we never have to leave our homes again.

The internet of things just has to be
When you're talking about hypes which mean the future, you mustn't forget the internet of things. With the Amazon Dash, the company already gathered its first experiences in this area last year. Amazon Echo was also a step in the direction of a fully networked home, which you don't need to leave in order to go shopping. But the bad news for stationary traders isn't over yet – at least when it comes to Amazon and its development of the Dash replacement service.
Out of toothpaste? Press the Dash button and a new tube comes the next day. It could hardly be easier. You have 30 minutes to reverse a hasty purchase decision. But you should still hide the button for Mars, Bounty, Milky Way etc. well, especially with children in the house, or when your levels of self-control are at null, despite extensive Freelectics use. Apart from this, the decision as to what brand you buy is made for you: first there, first on the washing machine, fridge etc.
The Dash buttons are still in the testing phase. It remains to be seen when Germany can expect a roll-out. German angst is sure to play a decisive role here. The first Dash buttons will go to the U.S.A – to Prime customers by the way, which brings us to the next point.
Prime. Prime is everywhere!
With Amazon Prime, the online retailer shows how you get longterm customer loyalty. Free shipping, instant video, Kindle library, special offers and more advantages, which come with your subscription. As if all this weren't enough, Amazon keeps adding to the content of a Prime subscription.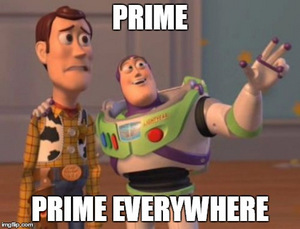 For instance, Prime customers are supposed to get free access to otherwise billable apps in the future. Will this make Amazon dangerous for Google Play Store? After all, in January 2015 there were 293,000 applications in Amazon Appstore. On the other hand, Google has 1.2 million Android apps. But it is important to note how vehemently Amazon is pushing through their Appstore project.
The connection to Prime is only logical because it brings two advantages at once:
Their own app store generates more downloads and gains relevancy.
It makes free apps a final incentive for customers to sign up for a Prime subscription.
Speaking of apps: the streaming service Instant Video is now available as an Android app for tablets. They don't want to yield the mobile battlefield to Netflix etc. without a fight, and video on demand services are being used on mobile devices more and more.
Jochen Krisch also talks about Amazon Prime at length in his Exchange podcast on the topic: "Is Amazon Ready for the Next Step?".
Today's special: services
With Amazon Home Services, the online retailer now also offers services. The service, which is currently only available in the U.S., offers a large range: from plumbers and repairmen, to electricians who install car sound systems. People offering their services on Home Services hope for more contracts because the brand name "Amazon" alone creates trust with the customers.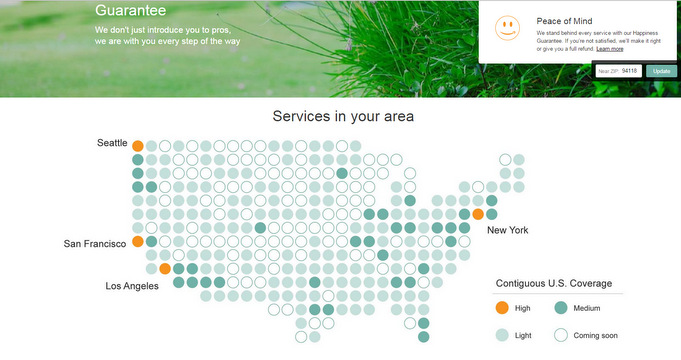 50-70 millionen US dollars for computer games
No ground remains untouched – this obviously Jeff Bezos' growth philosophy. Despite this, many were surprised that the online retailers still spent 1 billion US dollars buying the streaming service Twitch. This mainly streamed events from the growing branch of eSports. But why just stream when you could also produce the games yourself? It seems to work with series.
There are rumours that Amazon has invested 50-70 million US dollars in the troubled company Crytek. Of course this isn't philanthropic. In return, it promises the use of the CryEngine with which games like Crysis and Star Citizen, which have already been able to collect over 70 million US dollars in crowd funding, were implemented. A complete multimedia solution is imaginable: Fire TV with Amazon games… and if the chip packet is empty, just press the pringles Dash button.
You never have to leave your home again
Amazon has always had a flair for simplicity. The new services also show this perfectly. The trend continues to go in the direction "couch potato." In the future, you won't even have to leave the house for a box of washing powder, all kinds of services are available in a few clicks, and you have while away the time to delivery with Amazon games on the Fire TV, watch the latest season of an Amazon series or talk to Alexa.
A new area every week – it's fun to watch Amazon ruthlessly push through their growth strategy. It remains to be seen what will survive in the end. But one thing is certain: stationary traders should dress more warmly than normal, even if the winter is over.