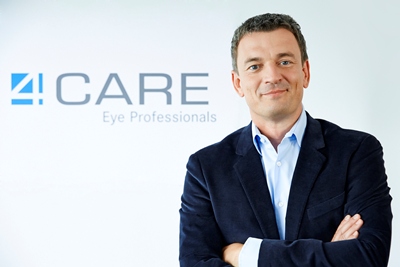 In 2014 our costumer 4Care GmbH, one of the Europe's leading omni-channel providers of contact lenses, care products and glasses, went all in on the implementation of a responsive web design and the migration of Lensbest.de to Intershop 7.3. Their trust in dotSource led to convincing the jury and receiving the Shop Usability Award 2015 in the category of wellness, beauty and health.
Several months later, the battle continues within the eyeglasses complex online business. It is time to know the results, benefits and opportunities for 2016 that 4Care can share after their experience. In a recent interview, Bernd Behrens from 4Care GmbH has shared small touches of strokes about their experiences with the migration process as well as the main aspects to keep technically up-to-date, among other things. He will host a session on these topics at our Handelskraft Conference 2016, so you can get the whole insights on Thursday the 18th of February.
Which benefits did the relaunch of lensbest.de generate for your company?
Besides the new and modern look & feel, the online shop convinces with an improved usability and, along with that, a better conversion rate. The new mobile capability on all device formats is important in order to give our customers the opportunity to place their orders at any time from any place.
2016 could be the year of mobile commerce. Based on your own experiences, what do you think about mobile solutions?
Regarding ourselves and our environment, we all notice that the percentage of mobile devices is constantly increasing. Along with this growing number of devices there will also be an increase of services for mobile applications, e.g. easy payment features etc.
Could you give us an overview of your session at the Handelskraft 2016?
At the conference, I will talk about our experiences with the migration process. Furthermore, I will present results from our new online shop as well as current business development topics we are constantly working on in order to keep technically up-to-date.
What are the main objectives and challenges for your company in the next year?
Our goals for 2016 are the same that we had for 2015: to recognize and adapt to developments and changes in the market at an early stage, with the aim of maintaining our ability to act as first mover.
What are your expectations for the Handelskraft 2016?
Many good conversations, a lively exchange of experience, and of course new inspirations and contacts.
If you don't want to miss Bernd Behrens's session "Shop Usability als Erfolsfaktor für mehr Kunden und Umsatz" as well as many other interesting presentations on topics like Design Thinking and the success story of the BSB-Giant Adolf Würth GmbH, you can book your ticket to the Handelskraft 2016 here!