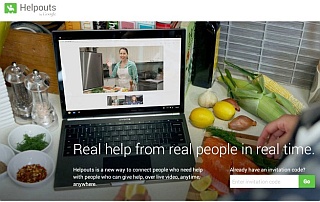 Google Helpouts will be closed down by the 20th of April. On the platform, users were able to help each other via 'hangout' with the option of charging for it. The shut-down of the service, which has been in existence for 17 months, hardly comes as a surprise, considering that a search for its promotion or an obvious crowd puller was in vain.
Strategically, it was also unclear what gap it was supposed to fill. E-Learning? Support? Service channel? Everything was possible. But maybe exactly that was the problem. There were just a few exciting examples from Google themselves. For instance, they were able to motivate well watched YouTube giants to offer Helpouts.

Google cannibalised themselves even further, instead of using synergies. Why pay for a Helpout, when a classic YouTube tutorial is certainly enough in most cases? Such questions were not answered, which once again showed that service per se doesn't run itself; the advantage for the customer has to be clearly communicated.
It's a pity that such a nice project had to grind to a halt because of boredom. Customers love service, but they have to hear about it.