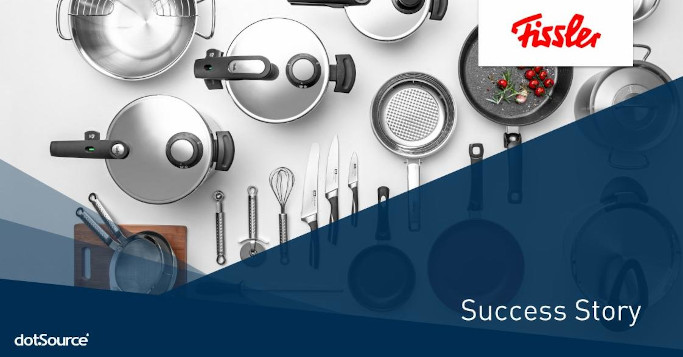 One does not have to participate in »Das perfekte Dinner« (The Perfect Dinner) to appreciate the value of good cookware. Amateur chefs all over the world know how annoying low-quality pots, pans and knives can be. Especially if they are treated a little harsher when cooking, they quickly get blunt blades or deep scratches, which start to rust after the third rinse.
This is why households that regularly cook fresh meals like to invest in high-quality products that not only survive a three-course meal but are also a reliable companion for everyday spaghetti dishes, paella pans, sauerbraten or the annual Christmas feast.
The cookware manufacturer Fissler offers just such a premium range of pans, pressure cookers, knives and other kitchen utensils and contributes to people all over the world enjoying cooking with its outstanding »Made in Germany« quality.
Find out in our new »User-Centric Content Commerce Plattform for Successful and Long-Lasting Customer Relationships« success story how Fissler has managed to meet its quality standards on a digital level.
Content Commerce Step by Step
Fissler is committed to the continuous optimisation of function and design – not only in terms of its products, but also with regard to its online presence. Just like a perfect recipe, all framework conditions in digital business must be optimally coordinated so that companies can focus on their core business, namely customer relationships and corporate growth.
Together with dotSource, Fissler ensured that existing software solutions were professionalised and thus created a solid system landscape for further steps by:
Content Commerce Platform for a Delicious User Experience
A good, sustainable digital strategy relies on customer focus in all corporate processes, sales and marketing activities. However, data on active and potential customers can only be used effectively if different systems (ERP, CRM, marketing automation, PIM, etc.) are connected and harmonised with each other.
The dotSource designers were able to visually implement Fissler's desire for a uniform and at the same time more emotional content commerce strategy within a short period of time, thus turning the online shop into a real eye-catcher with modern UX elements, colours, shapes, arrangements and various other contents, which makes people want to cook while they are still shopping.
Content Commerce on an International Path
Fissler has already been developing and producing high-quality cookware for 175 years and is now well on the way to making it even easier and literally sweeter for chefs, families and friends worldwide to create culinary delights.
Numerous discount campaigns, sweepstakes and inspirations in the form of texts, images and videos not only make your mouth water, but also show Fissler products live in action, thus ensuring a user experience that turns visitors into customers and customers into fans.
Content Commerce Platform: Best Practice Details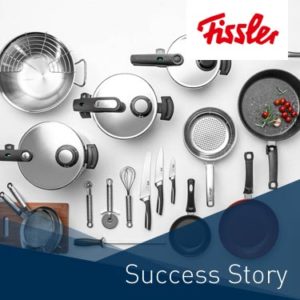 With its expandable content commerce platform, the tradition-steeped company is well prepared for the future and now also keeps an eye on its online business and the adherence to its »Made in Germany« quality standards internationally.
The success story of Fissler shows that a user-centric approach as an inherent part of the corporate strategy is the key to excellent, digital customer relationships – both on a national and international level.