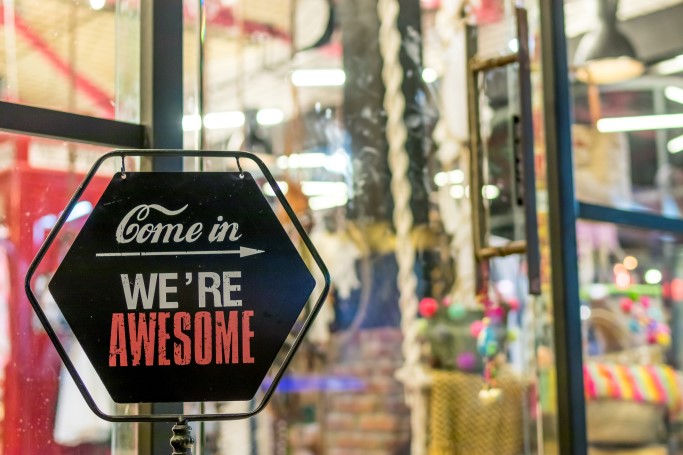 Online retail is continuing to grow in Germany. This increase can be felt in two main directions – on the one hand, the digitisation of stationary retailers and the considerable dominance of Amazon, on the other hand in the proliferation of smartphones in all day-to-day operations.
This tendency covers the main points of the current survey of the retail association of Germany (HDE) "Onlinemonitor 2018". We'll summarise which trends are defining German online retail and which aspects retailers and manufacturers should pay particular attention to in order to master the digital transformation.
# 1 – German online shoppers are getting more mobile and experienced
The increasing importance of smartphones in everyday life and the wave of enthusiasm older generations have for the internet are decisive points for this positive development. The smartphone's impact on the entire customer journey is becoming more prominent, to the extent that it's the first point of contact for many.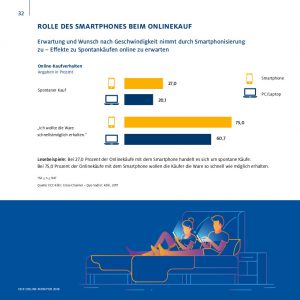 The smartphone has become an extension of ourselves. One in three people use one every hour, every other person is always reachable by mobile phone and 60 percent bridge the time in situations where you're waiting around with a mobile device. This means that the smartphone is a clear path to a potential customer, as well as a key point for multi- and omnichannel shopping experiences. The linking of channels is a condition that must be met.
So it's not surprising that mobile commerce is currently considered the most important retail trend. Rightly so: Almost 30 percent of online sales are done with a smartphone.
When? At the doctor's or in the metro – Especially while waiting around – Consumers can shop with their smartphones on the go.
Where? Despite the mobility aspect, smartphones are mainly still used for shopping at home.
Why? Mobile shopping is faster and triggers spontaneous purchases.
In addition, most searches now come from mobile devices. Therefore, Google favours mobile-optimised websites. The latest move from the online giant in this context is the so-called Mobile-First Index.
Despite powerful indicators, many online shops are still lacking in such basic things. According to the study mentioned, customers are much more dissatisfied when they view online shops with their smartphone, especially in terms of assortment and user-friendliness.
In this sense, "Customers Choice – Best Online Shops 2018" shows the best use cases for achieving long-term customer satisfaction. The reason is that these online shops offer holistic and unique shopping experience.
It is also noteworthy that older people have long since discovered online shopping for themselves. They are the fastest-growing age group of shoppers, up 44 percent year-on-year.
# 2 – Stationary retailers increasingly rely on e-commerce
German online retail is continuing to grow. Growing markets in online retail continue to be FMCG, furnishings, DIY, and gardening. In 2017, it grew by 10.5 percent, compared to 2016, to €48.9 billion. Apart from ever-growing e-commerce, for the first time, online retailers with stationary locations are the biggest drivers of growth, which means that these classic companies have finally taken digitisation seriously and have arrived at online retail.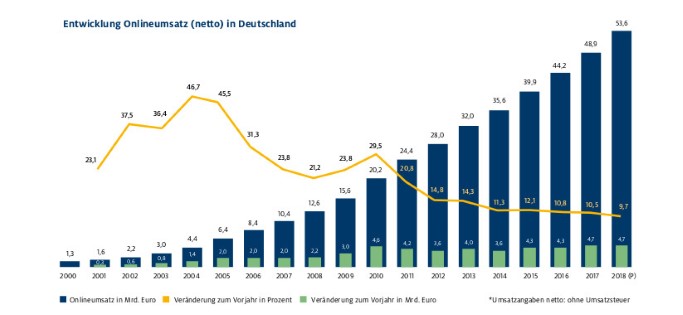 The increase in sales can be attributed to the use of Amazon's marketplace as a distribution channel for small and medium-sized enterprises (SMEs). This fondness for Seattle's online giant continues to expand Amazon's monopoly position. They dominate 46 percent of Germany's online retail. The rest of the industry has to share the rest.
SMEs are also an increasingly important part of Amazon's ongoing growth. According to the Small Business Impact Report – the first Amazon-focused study on small and medium businesses on its platform, retailers are now responsible for every other purchase on Amazon. In the US alone, 20,000 SMEs generated more than $1 million in revenue on the platform last year.

I am curious about how the platform economy will develop and how it will shape online retail in Germany. Last week, we gave some insight into the future of the marketplaces, with some reading tips. If that's not enough, our current recommendations will certainly help.
Our 5 reading tips of the week
E-Commerce Engine Shopify Is Launching A Brick-And-Mortar Store [Forbes]
Why These 2 Niche Ecommerce Brands Are Opening Up More Brick-and-Mortar Stores [AdWeek]
Digitalisierung des Handels: Hoffnungsträger lokale Initiative? [E-Commerce Magazin]
FMCG und Beautyprodukte werden vorwiegend offline geshoppt [Markenartikel-Magazin]
Mix aus E-Commerce und Medienangeboten: Warum Alibaba enorm wächst [Absatzwirtschaft]