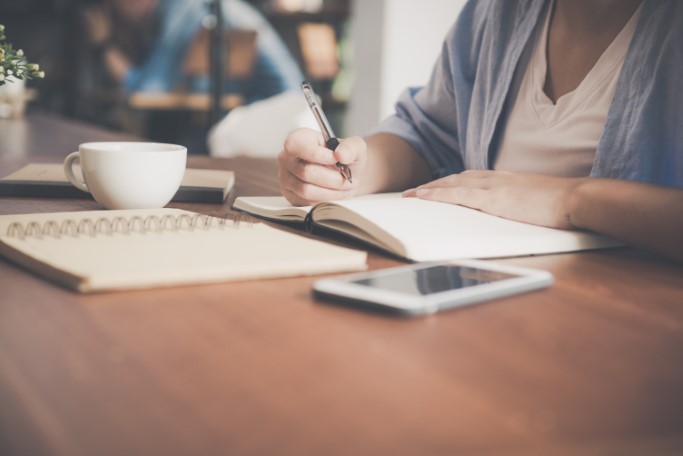 Artificial intelligence is booming. More and more companies are looking for ways to benefit from it. Research and development are starting bring out their first working prototypes. Nvidia, known for their graphics focused hardware showed off what they've been up to. Content creators and designers are directly affected.
Make visual, diverse content lightning fast with AI
Whether a background image for a landing page, a cover image for a blog post, or a few snapshots for a print catalogue tediously searching for images is part of every content creator's job. Meanwhile entering some keywords, paying a little (or a lot) for stock images, and saving graphics materials in a digital asset management tool. Then you wake up and do it again and again.
But what would you say if you could just paint your idea with a few strokes that will make a great, photo-realistic image? That's exactly what the new self-learning software GauGAN promises.
Nvidia's paint program relies on deep learning technology, specifically Generative Adversarial Networks (GAN). This type of artificial intelligence consists of two neural networks. One of them, the generator, produces images which it then presents to the second, the discriminator. The discriminator compares the image presented with a huge image database and gives feedback to the generator. By comparing it to real images, the AI can adjust the ratio of various elements of the image such as a tree or the sky. Bryan Catanzaro of NVIDIA describes this as follows:
» …the neural network is able to fill in all of the detail and texture, and the reflections, shadows and colours, based on what it has learned about real images. «
NVIDIA's new tool is as easy to use as Microsoft Paint and does not require any artistic skills. You can first draw different coloured surfaces and then arrange each element according to its nature with given tags, as this video shows:
The result is amazing. A realistic picture that meets your individual requirements. Little effort and free. In this context, ideas and prototypes could be better developed and changes quickly made.
AI accelerates and enhances content production.
Although the design is not yet mature and so far limited to landscape images, it can be assumed that this approach can be used in countless scenarios, because it's not only interesting for gaming or architecture but also for content creation on websites, blogs, and even online stores. In fact, the neural network is able to capture other landscape elements such as buildings, streets and people.
In this sense, AI acts as a motor for higher speed and efficiency. Pictures with similar properties (like a photo of a beach) can have colours and lighting differences. Daylight, sunset, and night. You can see the changes instantly. This tool could do a lot of work for content creators both when searching and creating product images to saving time. And time is money.
GAN already offers incredible applications for product images, like in the fashion industry. The AI can transform an image into different tunes. More use cases have been compiled on Medium in this detailed article.
AI also supports content production in other areas. Google Vision analyses product features such as form and colour on product images via image recognition technology and then writes detailed product descriptions on its own.
What can AI do for my business?
The main takeaway is that AI isn't just science fiction anymore. Nvidia speaks for itself. Although its solution is still in its infancy, the potential of AI is clearly felt and now demands its dissemination and acceptance.
The GAN app belongs to Nvidia A.I.Playground Project is a new online space where everyone can experience the full power of deep learning research. On the new website, there are currently three demos for image editing, styling and photo-realistic image synthesis, although currently, only a demo for the first use case is available.
These experiences and best practices help to really establish the real potential of this new technology. And it encourages businesses to learn more, to ask themselves how it can help their businesses grow, and ultimately add value.
Our 5 reading tips of the week
KI im Marketing: Mit lernenden Algorithmen zu neuen Zielgruppen [t3n]
Was PR-Experten über die Medienarbeit mit KI-getriebenen Redaktionen wissen sollten [content-manager]
Missing Link: KI – die Künstlichen Idioten des digitalen Kapitalismus [Heise]
Why AI is the most important audio tool you're not using [The drum]
Europe's AI start-ups often do not use AI, study finds [Financial Times]