E-commerce software Magento was originally published as an open source e-commerce platform by the company Varien Inc. in 2008. With eBay's takeover in 2011, the company was reformed under Magento Inc. as a 100% daughter company.
Today Magento Inc. is an American software manufacturer with a seat in Culver City (Los Angeles County). Magento mainly focuses on small to medium sized enterprises in the B2C sector, although eBay does have aspirations to win more large companies in the future. Magento's most well-known clients include Cornelsen, The North Face, Olympus, and Men's Health.
The Software
Magento currently offers two version of the e-commerce software: the free Community Edition (Magento CE) and the purchasable Enterprise Edition (Magento EE). The differences between the two versions lie largely in support and range of integrated features.
A large developer community stands behind Magento assuring continuous system development and numerous extra modules, with which even partly unusual requirements can be met. In regards to third party system connection, such as payment or newsletter systems, Magento offers over 6000 extensions. Since foundation, at least one new main version has been released annually.
Fears for the future and controversy
Sadly, when introducing Magento at the moment the topic cannot be avoided: a strong wane in innovation tempo at Magento has been observable for a long time. eBay appears to be hitting the breaks and no longer gives the community the priority it deserves. After all, Magento only became so big through them. The relationship with partner agencies is also tense.
Initial enthusiasm about the takeover by eBay is cooling off quickly and the mood reached its low point at the Meet Magento 2014 when Tim Bezhashvyly brought the dissatisfaction of many to the point in a keynote address.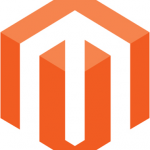 Die dotSource GmbH ist Magento Partner. Von uns stammen außerdem mehrere Magento-Module und Payment-Schnittstellen.
dotSource GmbH is a Magento partner and many Magento modules and payment interfaces come from us.
Find out more: Whitepaper "Selecting E-Commerce Software"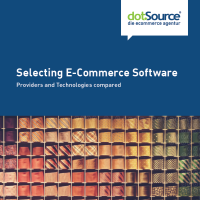 In our new whitepaper, we provide an overview of the central decision making criteria in the selection of e-commerce software and introduce Germany's more important systems and providers in the entry, mid and enterprise areas. We have also taken on an evaluation of the systems in a ACH centred matrix. The whitepaper can be requested here.