Intershop Communications AG was founded in Jena 1992. After eBay's takeover of Magento, Intershop is the company's second platform. eBay currently holds 26 percent of the company, 63 percent of shares are in free float. There is speculation that eBay wants to pull out of Intershop. In 2013 Intershop had a turnover of approximately 56 Million Euros. This equates to an increase of three percent compared to the year before. However, large investments in marketing and sales have pushed the company into the red. There is talk of cuts to working hours and even job losses. Around 500 staff currently work for the trade exchange- listed company. Intershop strives to position themselves as solution providers for multi-channel commerce. Alongside full-service business, B2B e-commerce especially is a growth field. Forrester identified Intershop as a leading solutions provider in this area. A dedicated strategy for the publishing industry is still pending. Intershop is mainly active in EMEA. The platform is mostly implemented by large enterprises. Approximately 74 percent of Intershop clients have an annual turn-over of more than 100 million US dollars. With Mist Spex, pure players are now switching to Intershop. Their most well-known clients include Plus, Baur, Swarovski and HP.
The Software
With Intershop 7.4, Intershop offers a strong e-commerce platform, which covers core e-commerce functions, as well as multi-channel functionalities, and reveals a concrete positioning. The complex CMS of Intershop 7 has been simplified and lowered configuration effort is reflected in lower product costs. The extended B2B module makes the software more attractive for B2B players, while SIMCOMMERCE offers a predictive analysis tool. The Social Commerce Out of the BOX solution ((SCOOBOX) delivers the possibility to integrate social commerce and community functions. Intershop's mobile connector supports the adjustment of the website in a mobile browser, although it offers no development environment for mobile applications. Apart from half-yearly releases, a new main version is released every three to four years, which is supported for up to five years.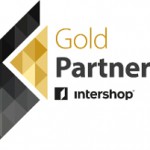 An implementation and technology partnership has bound us with Intershop Communications AG since 2006. The Social Commerce Out of the Box solution SCOOBOX comes from us.
Find out more with our whitepaper "Selecting E-Commerce Software"
In our new whitepaper, we provide an overview of the central decision making criteria for the selection of e-commerce software and introduce Germany's more important systems nad providers in entry, mid and enterprise areas. We have also taken on an evaluation of the systems in a DACH centred matrix. The whitepaper can be requested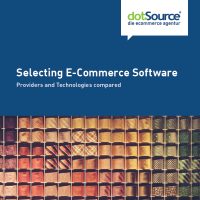 ""> The Whitepaper can be requested here.