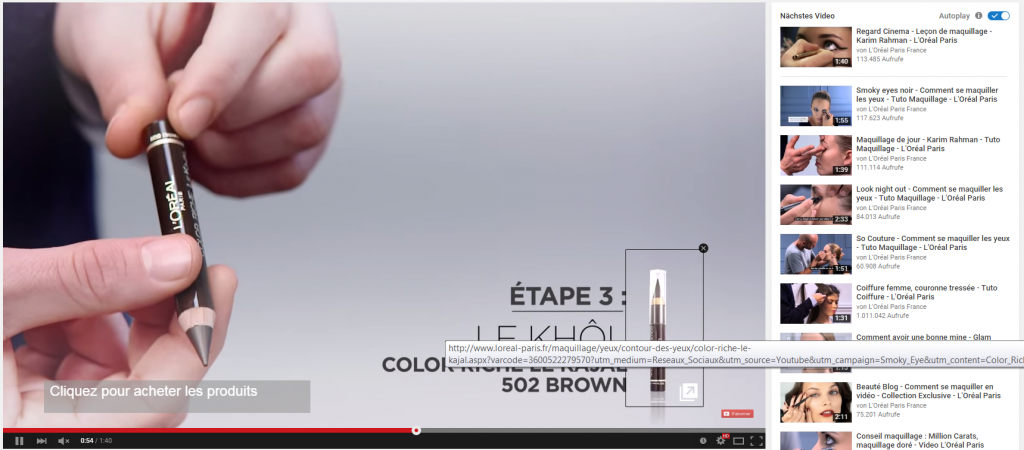 Videos have been the darlings of e-commerce for a long time. With buy buttons, which we've already talked about, the trend is picking up speed and clearly heading in the direction of e-commerce scenarios. Initial tests are going well: US traders Wayfair have reported threefold sales via videos. Shoppable Trueview-ads, which can be combined with interactive cards (offering further information) make this possible.

Youtube Trueview Shoppable Ads: A New More Lucrative Sales Channel
The buy button is moving closer and closer to the point in the customer journey where the desire to purchase originates. You can see it in this video by L'Oreal for instance.
This is not just practical from the point of view of customers. Google thought about retailers when developing shoppable trueview-ads too. Because the same data feed is used as with Google Shopping, content from existing feeds can be placed in video ads without extra editing.
ShopCo: Short Processes Between Customer and Shop
In contrast, the startup ShopCo has caused some displeasure among traders. Via a browser plug-in, it seeks to become an overarching customer account for all shops and so make online shopping possible without a customer account. This means one overarching shopping cart and a common interface during the checkout process. Jochen Fuchs had a look at exactly how this could work for t3n.
Great for the customers: the buy button logic spread to all shops. But how are retailers supposed to get customer data this way in the future, in order to run marketing campaigns and personalised communication? You do make an account with ShopCo, but this happens via an intermediary ShopCo email address – every newsletter marketer's nightmare. Even when data is transmitted, there is an extra add-on-service which don't allow for full control.
With buy buttons, the tenancy to shorten the e-commerce journey more and more has once again shown itself to be a two edged sword.