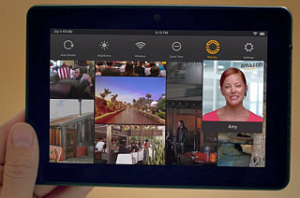 Typical Amazon: Although one never officially comments on hype topics and apparently doggedly stays on one's own path, things are boiling under the surface. Trends are being ignored – just like you would never build a smartphone or master fashion – unless there is a really innovative approach. It seems that this has been found for service. Video consulting is the magic word

Mayday: Live consulting for kindle users
Customers having problems with their Kindle Fire HDX, can now expect to get help within fifteen seconds, in Germany as well. The press of the button is enough to be connected through to a consultant via a videochat-hotline. According to a test by Spiegel online, the service functioned well right from the start.
Amazon erobert visuellen Commerce
Amazon conquers visual commerce
It is possible to see how deep Amazon is in the topic of videos and visual commerce from the Amazon Video Shorts page, where Amazon is building their own commercially oriented YouTube.
More services of this kind can be expected
It is not surprising that Amazon especially is investing in videos. Firstly, video format is gaining in importance and not just in the service branch. Secondly, it is important to be careful of cost efficiency here and videos are ideal for that. Ideally, high quality, entertaining and informative videos replace personal consultation and support branding at the same time.
Increasing automatization in service as well
Data centricity and automatization in service is a large topic. After all, it is an expensive thing in the necessary quality and the customer is not always thankful.  This is why the focus on algorithms and data will increase in the future.  Other companies are already leading the way. For instance, US outdoor brand "The North Face" are currently testing virtual shopping consultants, which recommend the fitting product of the customer's trip.
Is service soon to no longer be a USP over Amazon?
With their high innovation tempo and existing customer base, Amazon could be in a position to get many more services of this kind up and running. It could also be that lack of service felt up to now at Amazon becomes a thing of the past and no longer belongs to the ways merchants have of surviving the e-commerce giant.