Facebook is the social network with the best range: almost 1.4 milliard people are registered there. Sharing pictures, clicking "like," commenting – all well and good. But how do things look when it comes to sharing advertising campaigns e.g. in the form of a coupon? G/O Digital ran a study on this, which did not confirm Facebook's swam song, at least for small business. So it Facebook worth it after all?

Being present on Facebook is important
The study asked 1000 North Americans between the ages of 1 and-29 about their use of social media. G/O Digital was particularly interested in the possibility of raising interest in obtaining products or services from a local/small business with a corresponding Facebook advertising campaign. So does advertising on Facebook influence the shopping habits of young adults?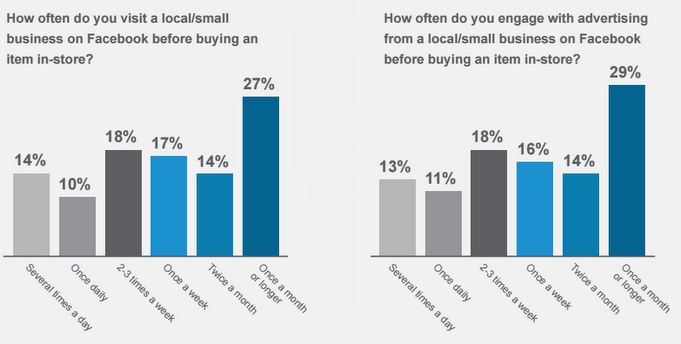 58 percent said that they interact with advertising on Facebook at least once a week before shopping in a brick-and-mortar store. 59 percent even visit a business's own Facebook page. This result is especially interesting for a successful cross-channel strategy. It shows that (young) people inform themselves via a device, be it laptop, smartphone, or computer, and then shop offline.
Customer satisfaction and targeting count!
Small businesses should also pay attention to feedback from Facebook users. 41 percent of those surveyed said that the customer reviews on the Facebook page influence their decision to purchase the most. 80 percent answered the question, whether or not people are more likely to buy a product from a company that was rated well on their Facebook page, with "yes".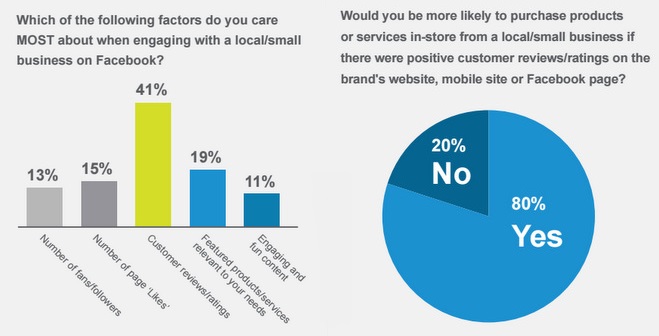 "Featured products/services relevant to your needs" is also an important criterion in making the decision to purchase. But you need a well-functioning social media strategy with effective targeting for this. To address your target group more effectively, outside of Facebook as well, marketers have been able to make use of "Facebook Atlas" since the service was started last year. In the future, targeting can get more accurate with data from social networks, than was ever possible with Google.
Facebook works in B2B too
G/O Digital's survey shows that Facebook advertising is especially valuable for small, local businesses. In comparison to other networks, Facebook is the first choice when researching a product for 62 percent, followed by Pinterest (12 percent) and Twitter (11 percent).
Sadly, the survey does not show the success rate of pure online campaigns for larger companies. But Facebook isn't just something for the B2C branch. It can be used for maintaining contacts in the B2B sector as well. Social media marketing is more than just a daily post on current happenings.
BTW, a survey by Eccolomedia also shows that Facebook works in B2B as well. It asked B2B decision makers what channels have the advertising which influences them the most. Surprisingly, Facebook overtook LinkedIn as the central advertising channel. But social media is only one way toe-commerce success in B2B. Another possibility for instance, is an emotional customer address.
Getting into position
So yes, Facebook is (still) a worthwhile advertising tool, be it in B2C or B2B. If you're still not convinced, try this for a thought: those who are already active on Facebook and have a well positioned page could have an advantage with the introduction of a buy button, because they can fall back on a preexisting group of followers. This is not just true for Facebook. Twitter and Pinterest have been thinking about how and when to integrate a buy button for a long time to get users to stay on their platform.
There's life in the old dog yet – Facebook shows how it goes – assuming you have the right strategy.