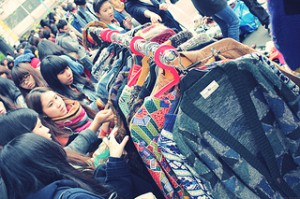 More and more people feel motivated to purchase sustainably. The modern consumer wants to do the right thing and buy conscientiously. The price pays less of a role than the circumstance of production, quality, image, origin, working conditions, fair-trade-, and organic labels. Some, like »Generation Y«, want to consume less over all. Those growing up in the shareconomy are interested in re-commerce, sharing, and conscientious consumerism.

What connects them: high information requirements for a purchase and the urge to get insights into the company and brand. Purchasing becomes an experience; that which is consumed defines the consumer's personality. It is not about "doing without" – the conscientious consumer enjoys shopping around for products as much as the next person.
But they do have higher expectations when it comes to quality and transparency. It is not enough to get a product – they're looking for the best possible solution. To this end, social networks, communities, and blogs are used intensely, and a company's image is actively observed and questioned on platforms like utopia.de
Here are five ways to reach modern, conscientious customers:
1. Be a part of the brand
According to a »brandshare« study by the PR company Edelman, it is important to nearly all consumers that a brand shares their own values. 96 percent of those surveyed in Germany want to know about the production and origin of products. Especially 18- 29 years olds (54 percent) and 45-65 year olds (51 percent) want greater transparency and information in this area.
The desire for insights into the company, their development, personality, successes and mistakes is also rising. This participation – an underestimated leverage point for activating and bonding with customers – was desired by 89 percent of those surveyed.
2. Re-Commerce and Shareconomy
Products don't have to be new. The story behind is product can be just as much of a status symbol for Generation Y. This is exactly what the term »Preloved Fashion« expresses.
Sharing rather than owning: in the shareconomy, access to products, services, or experience is the main focus. The appeal lies not in buying a new product, but in sharing it with others via loan, hire, or sell-on. With »Me« for instance, Mercedes rethought their business model to reflect this.
3. The purchase as an experience
Aspects like: exclusiveness, personalisation, and a product's origin and materials have to be in the spot light if you want to impress Generation Y shoppers. The new generation of customers are always looking for something special and and experiences while they are shopping.
The advantage for traders is that the customer shares the company's values and so it more motivated to recommend products. Lending meaning in this way support emotionalisation and loyalty.
4. Mass customisation and custom production
The customer 3.0 does not want to buy mass produced products. Because more and more people are sharing this attitude, custom production is growing.
5. Online fundraising/donations
Purchase online and do a good deed – this is increasingly happening directly via donation directly in the online shop. With elefunds for instance, you can simply round-up your bill at the check out and choose an organisation to send the extra money to. When buying a pair of shoes at the startup Shoemates, customers automatically donate a pair of shoes to school children in Afghanistan.
We'd love to hear what you have to say on this topic – tips, tricks, thought and quibbles in the comments please!