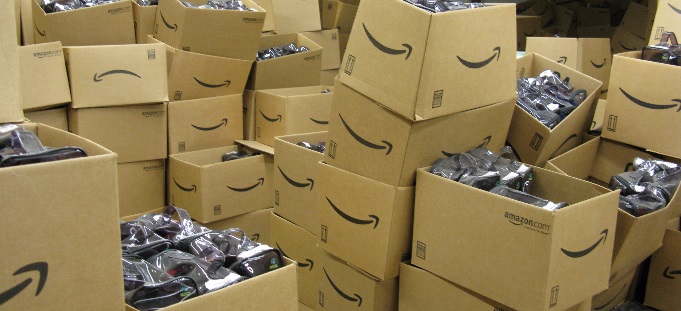 One of the most read articles on Handelskraft to this day is "Counterfeiting in E-Commerce: Why Does Amazon Have so Many Fakes?" (Only available in German) Three years after the fact, the topic has remained relevant. It was also noticeable during ECD18 in Munich.
I cancelled my visit to re:publica18 because I was given the opportunity to host two panels on the main stage of ECD next to Dr. Armand Farsi and Alexander Graf. The focus of "Brand Cockpit 2020" was the future of brands on platforms as well as blockchain and entrepreneurship in the panel "The Customers of Tomorrow"
A reason enough to look at the current state of marketplace business and to take take a look into the future after the reunion of platforms and brands.
Wholesale and retail fight for customer data
With just over 500 attendees, ECD by Tradebyte in Munich's Wappenhalle was, once again, sold out. Exchanges of information between platforms (i.e. Zalando, Real, idealo, Otto, and more), retailers, and brands are urgently needed. Most guests heard the conclusion: "Here, I'm meeting with contacts in just a day, whose coordination usually takes a whole year."
This outcome is hardly surprising. Platforms grow and try to convince more and more retailers and brands to connect and offer a profitable added value. At the same time, many traditional wholesale fashion brands face tremendous change. They increasingly need to become multichannel retailers themselves, that intelligently manage online and offline channels. Flagships, digital content-strong brand shops, and marketplaces all require new KPIs and employees to understand them digitally.
Even if there is a desire for a customer-focused brand, new business initiatives fail to a lack of information. The commonly presented omnichannel scenario, where customers are channel-sensitive and have the best offers presented based on their preferences, are, according to the Brand Cockpit 2020 panel participants from Tamaris (Nico Gold), Odlo (Christian Gut), and PVH (Andres Rödl), extremely complex and – at least for now – not possible.
In particular, platforms such as Zalando with their customer insight API or Otto with Otto-Connect would only begin to make their information usable for brands in the near future. Currently, you'd need an armada of tools, people, and hypotheses to forecast sales and accordingly supply channels with goods. Often the key accounter who first takes action, rather than just direct the goods into the channel with the highest ROI, wins. In the future, you can expect transparent platforms and central data collection of all data from brand cockpits.
It's not so bad
Despite the immense need for discussion between all the ECD participants, one also felt that the situation isn't so dire. Wholesale providers' revenue is still good enough to make a decent contribution to profits. All the panellists agreed that platforms and brands would need each other, so cooperation at some level is unavoidable.
Mistakes made by brands in the platform business and change in their industry strategy are part of the nature of the business. It would make no sense to be on every platform. It would also make no sense to offer basically all products on all platforms. The platform has to fit the brand as well as the selection of products. Brands will have to make brave, entrepreneurial decisions.
More good news – the self-destruction of channels and platforms are not probable. The change from brand's shop to the marketplace would only amount to five percent. The entry from the marketplace to a brand's shop, almost 50 percent. Diversity and a clear concept count for multi-platform strategies. Then brands get the best of both worlds.
Speaking of concept – new strategies with new employees for ship-from-store
A digital evergreen remains in the debate over multichannel strategies to continue combining offline and online channels. How can physical locations and the shop be connected? Is click and collect worth it? How do you allow for shipping from stores and return to the store?
Brian Davis from Adidas had a clear position about this. The connection of physical stores and web channels is required. Any customer, albeit a small number of people, who want this service could be lost. You just can't explain to them that returning or delivering products to their local store being impossible.
If you have to offer these additional services, the question of how to implement them arises. Of course, according to Davis, problems with stock accuracy – i.e. the actual availability of goods – can be solved. It's really expensive with, for example, RFID. A better way, in his experience, was using his own employees. He revealed that you shouldn't just blindly tell employees to pick out products and pack parcels. Not everyone working in the store is the ideal candidate for the task. Here, things need to be redesigned and staff deployed according to the new skill set. Multichannel with digital tools must be lived by the staff!
The e-commerce revolution is called blockchain
Sure, ECD is a hands-on event. Challenges should be solved. But a good conference is characterised by its wide view of the future. In Munich, this view was called "The Consumers of Tomorrow". At the panel I talked to Melanie More, CEO and Founder of the teen shopping app YEAY and Ryan David Mullins who is responsible for digital strategy and business development at Adidas, about Generation Z, entrepreneurship, and blockchain.
It was discovered that most of those present have two major blind spots. What makes the next generation tick and upcoming technological revolutions. YEAY CEO Melanie Mohr justified the success of the app primarily with the support of users. They set up a Teenage Entrepreneur Advisory Board at a very early stage and, in short sprints, queried and developed what potential users would demand. Impressively, she showed that development doesn't have to compromise the user with empty words.
A result of this is the evolution of the WOM token. These tokens, similar to a cryptocurrency reward users for product recommendations (WOM = word of mouth). According to the motto "We want coins, not points," users want to invest their share of brand sales, large advertising budgets, and e-mail marketing. With blockchain and smart contracts, brands and promoters can engage in direct relationships that only come from the transaction in the event of an actual conversion.
Ryan David Mullins is also experimenting with blockchain innovation in the context of Adidas. Counterfeit special-edition products can quickly show up on auction platforms for tens of thousands of euros, as well as general counterfeits on platforms can be counteracted by the transparency of the blockchain.
Buffer overflow at ECD 2018
Because of the astonishment of participants and the end of the panel I could talk about the further "e-commerce disrupting potential" of blockchain with both speakers after the panel ended. I'm dedicating an entirely separate article for that. Promise!
I didn't have time to attend the workshops and one-to-one meetings happening at the same time this year. The amount of information is so big for just one day. I can certainly already recommend ECD19 next year. I'm curious to see that'll move the world of fashion and platforms what ideas and best practices will be focused on. If that's not enough for you, our current reading tips will certainly help.
Our 5 reading tips of the week
Alibaba pilots blockchain supply chain initiative down under [zdnet]
Amazon: Der neue Blockchain-Dienst könnte IBM Kopfschmerzen bereiten [focus]
Blockchain statt Datenbank? Diese Argumente sprechen dafür [t3n]
Das Blockchain-Manifest – und seine Abgründe [handelsblatt]
Online Research Marketplace Adds Blockchain Verification Service [coindesk]