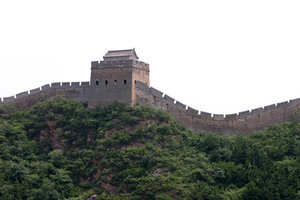 The idea of a conventional paywall is used by many content providers. However, a non-monetary paywall is rare. Pay with Tweet is one example: content has to be paid for in the form of a tweet or a post. Your own website receives greater reach and therefore more traffic in return. But how can turn-over be raised with this paywall variation?

How dies Pay with a Tweet work?
Few companies can afford to constantly provide free content. This is why many websites focus on a payment barrier, which makes contents available partly, or exclusively for a fee. It is also possible to have a model whereby you pay for an advertisement free website. One example of this is the web portal Golem, with its advertisement free subscription model. The disadvantage: users' lack of a willingness to pay..
The social sharing paywall Pay with a Tweet can be helpful here. Instead of money, users pay with a post on a social network, such as Twitter or Facebook. A post on Xing, LinkedIn or Google+ is also possible. This raises the ranged and generates more traffic. The services is not new: Paywall providers have been in the beta-phase since 2010 and hope for significant growth through the entrance of Hanse VenturesHanse Ventures. Especially the music and publishing branches are prime targets.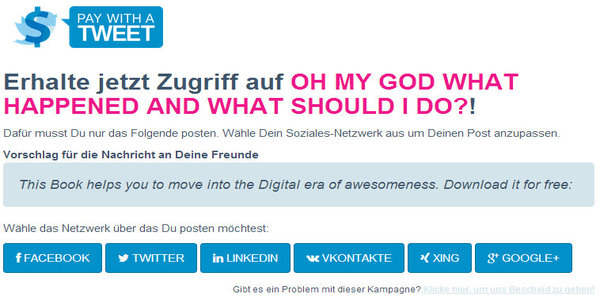 Converting social traffic into turn-over
Attention in social networks does not however, bring in extra revenue. But if you use a non-monetary paywall as a preliminary stage, it is possible to never the less sell content successfully. Onlinemarketing.de showed a simple example: You pay for a song from a new album with Pay with a Tweet, while the rest of the song have to be purchased. Through Pay with a Tweet, new potential customers are made aware of the album. Interest can be heightened additionally with a coupon.
Today I'm going to pay with a tweet!
Why should this kind of paywall be limited to the virtual world? Instead of cash or credit card, payment with via social share is imaginable, as the art project Datenmarkt has shown. Customers can pay for material wares with tweets and posts. Similar concepts have been successfully tested with Generous Store in Dennmark or Kelloggs' Tweet Shop. But be careful: With this kind of advertising there is the danger of surreptitious advertising. This could be avoided through an indication that it is advertising. Thanks to adaptable dialogues, surreptitious advertising therefore poses no problems.
Social payment with a difference
Social payment helps especially young companies to raise their reach with having to distribute free content. Problem: you are dependent on the range of your customers. What is a tweet which doesn't reach anyone worth?