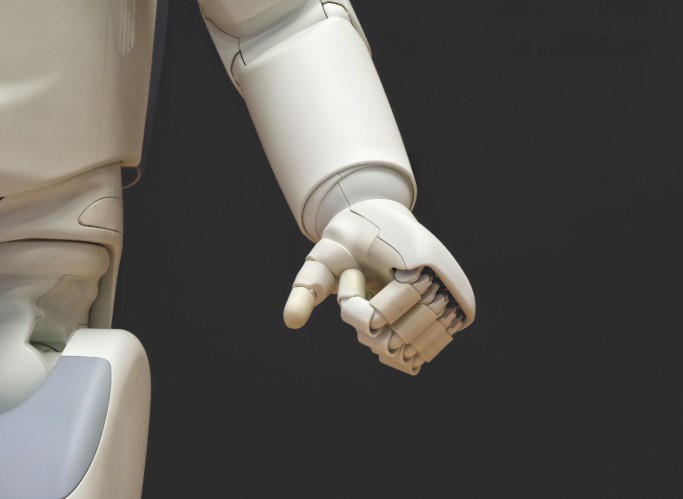 Source: Photo by Franck V. on Unsplash
With all the attention on Cyber-Monday-Week and its excellent results, other relevant news from Amazon has gone almost unnoticed. Two weeks ago, re:Invent Campus took place in Las Vegas, one of the world's largest cloud computing events. Amazon's cloud service platform AWS made remarkable business announcements there.
In addition to machine learning, big data, blockchain and databases, AWS was also looking for new cloud services in funky areas like cosmos and robotics. The latter goes far beyond the debate of humanoid companions in everyday life and business.
How widespread are robots currently and what are Amazon's plans to promote their use and development?
Robots are on the rise
Industrial automation is driving the global robot boom forward. According to the latest study by the International Federation of Robotics (IFR), industrial robot sales have doubled worldwide in five years and it's expected that this positive trend will continue.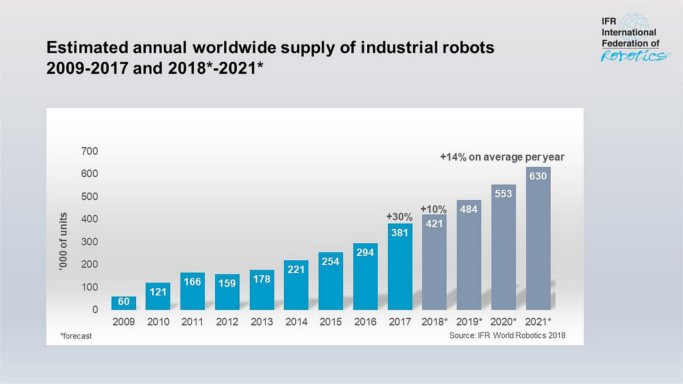 Source: IFR
73 per cent of the total revenue for industrial robots in 2017 will be attributed to five main markets: China, Japan, South Korea, the US, and Germany. China has significantly expanded its leading position as the most demand-seeking country with a market share of 36 per cent of global deliveries in 2017. Japan is the manufacturing king of industrial robots. Nippon's manufacturers delivered more than half (56 per cent) of the global scope of supply in 2017. South Korea's manufacturing industry has the highest robot density in the world, with eight times more artificial intelligence than the world average.
Robot installations in the US rose to a new high in 2017 for the seventh consecutive year, reaching 33,192 units, while Germany is the fifth largest robot market in the world and the number one in Europe. In 2017, the number of robots sold increased by seven per cent to 21,404 units. A new record.
The automotive industry, in particular, has been relying on its mechanical colleagues for a long time, but the electrical and electronics industry is also benefiting from the use of these smart devices — and even more so in future thanks to the growing range of intelligent prototypes and simulation technology (aka Digital Twin).
Service robots are gaining importance
In addition to soldering, welding, and tightening/loosening screws, these mechanical helpers also take on new tasks in other areas. They advise, entertain, and serve. Smart robots are conquering the service sector and even private spaces.
Customer service is not only improved by mobile phone, but also significantly in daily business with AI. More and more retailers are also using stationary humanoid robots to simplify shopping experiences and to complete fulfilment tasks. For example, Walmart uses a shelf scanner to detect incorrect prices and missing labels. In Germany, Conrad and Edeka are also experimenting with service robots.
Other sectors such as logistics, medicine, and agriculture are also beginning to benefit from the automation of troublesome processes or the prediction of diseases and machinery accidents.
Thanks to AI and other cutting-edge technologies, not just the robots are constantly evolving, but also their fields of application. But it's necessary to open new horizons.
Amazon and Google rely on cloud robotics platforms
Cloud computing provides robots with gigantic computing power and comprehensive knowledge. That's why the race for cloud robotics is getting tighter and tighter. Google recently announced that a cloud robotics platform will hit the market in 2019.
And Amazon? The online giant presented the AWS RoboMaker last week.
The cloud-based service uses the popular open-source Robot Operating System (ROS) software to assist robots in their work, providing a place to develop and test robotic applications. The idea behind this is to accelerate the time-consuming development process of robotics.
With the help of machine learning and analytics simulations of living rooms, sales areas, or race tracks for the development of intelligent humanoids can be simulated and tested.
In addition, the robot fleet can be managed and updated as needed. Speaking of updates… Of course, all the innovations in cloud robotics will also help Amazon expand its immense logistical power. It will also support the pick-and-place robot, which is currently being talked about. The storage robots should optimise the fulfilment. And at home? Amazon probably has something in store for 2019. We'll keep you updated.
Our 5 reading tips of the week
Google Cloud Robotics Platform coming to developers in 2019 [The Robot Report]
The Era of RAAS is here: Google Cloud Robotics Platform to go live in 2019 [Analytics Insight]
How AWS Has Turned Into An Unstoppable Juggernaut – An Analysis From re:Invent 2018 [Forbes]
Facebook is quietly working on 'soft robotics,' a wild field of robot research that seeks to mimic the movements of living organisms [Business Insider]