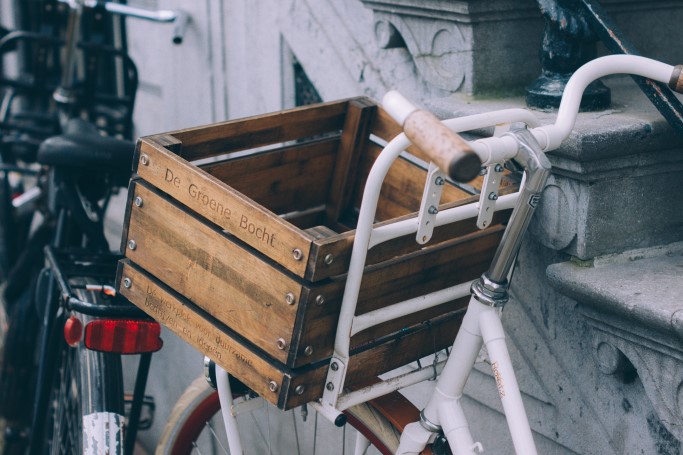 Alisa Anton – unsplash.com
Thanks to the enormous growth of e-commerce, the amount of deliveries in the past few years has grown exponentially. In fact, a new parcel record is expected this holiday season. Additional new offers to speed up and simplify the last mile, like same-day delivery, delivery on the requested date or even one-hour delivery, coupled with the congestions of the roadways, are thus causing an alarmingly fast deterioration of air quality. Therefore, sustainable logistics are required.
What solutions and initiatives have the top delivery services already come up with?
The German parcel market by the numbers
The German parcel market is in good condition and is continuing to grow. In 2016, 7.2 percent more courier, express, and parcel (CEP) companies were transporting goods than in the previous year. The volume broke into the three-billion-euro mark (3.16). That means that in Germany, 10 million deliveries were carried out per day. In addition, total sales in 2016 increased by 6.2 percent to almost € 18.5 billion. Compared to the year 2000, CEP sales increased by around 84 percent.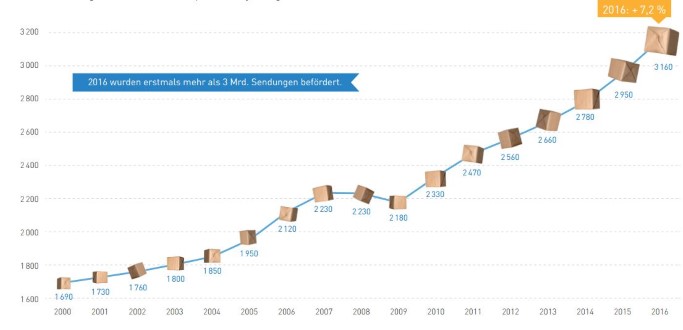 These numbers are the perfect addition for DHL this holiday season. According to the group's estimates, up to 8.7 million parcels will be delivered on peak days during the holiday season. On any other given day, the group delivers 4.3 million parcels in Germany.
However, this gives a bleak picture, in terms of the life cycle assessment of large cities, that logistics experts should not ignore. What can they do about it?
Micro-depots – The most sustainable parcel delivery method
Parcel service providers, online retailers, and shipping companies are looking for cleaner ways of transporting goods in urban areas and are experimenting with micro-depots of all kinds. Micro-depots are containers or parked commercial vehicles from which cargo bikes or pedestrian transport aids are loaded and readied.
The DHL subsidiary StreetScooter GmbH would like to bring 5,000 environmentally friendly scooters to the market by the end of the year. This Summer there are already around 3,000 being used.
» "With the use of our StreetScooter in Berlin, we are reinforcing our claim to remain the engine of electric mobility and the market leader in green logistics," Jürgen Gerdes stresses, Group Management Board Post – eCommerce – Parcel of the Deutsche Post DHL Group. «
On the other hand, as part of the research project EMILIA in Austria, new types of load bearing e-bikes, electric cars, and even route optimisation software have been developed. There are already experiments here and there heading in this direction.
Optimising the process with new software
The supermarket chain Billa has tested the e-bike like they use that at Deliveroo to deliver online orders faster and more efficiently.
In addition to methods of mobility that only use electricity, there are other ways to reduce CO2. Billa has already shown the way: Software for tour optimisation. UPS is also using a similar strategy that can save many millions and deliver more packages. In addition, AIT has developed software to optimise delivery and that can respond to spontaneous orders.
But a successful sustainable logistics industry also needs…
…an adequate political policy framework and a strong willingness from all parcel service providers to cooperate. This recommendation comes from the latest sustainability study by the BIEK. For example, governments should invest in the development of electric vehicles so that this type of car can be launched in a mainstream market even earlier.
In addition, companies in the BIEK industry, along with manufacturers and scientists, could develop e-cargo bikes specifically made for the industry in order tobenefit from mass production and provide a suitable service.
Our 5 Reading Tips of the Week
KEP: Umweltfreundliche City-Logistik darf nichts kosten [Logistik Heute]
Nachhaltige Logistik: Das Ende des Ablasshandels [Internet World Business]
Nachhaltigkeit versus Flächenverbrauch: Der Streit um Deutschlands Böden [Euractiv]
Are Cargo Bikes the Answer to Urban Congestion? This Global Shipper Thinks So [The Drive]