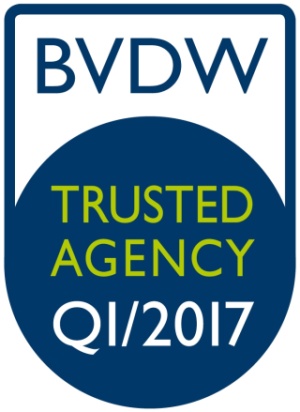 The selection of an agency is a tricky thing. The simplest requirements can get out of hand with the wrong agency and then good advice is expensive.
This is why giving companies some kind of orientation in the selection of a service providers for digital commerce projects is one of the most important tasks of the relevant associations. In order to raise the standard of their certificate, the BVDW extended their previous examination process this year. The three-stage procedure assesses work processes, customer satisfaction, as well as agency and project presentation.
The preface has already said it – the new certification process wasn't a problem for us and we were once again awarded the quality seal >>Trusted Agency<< for full-service digital agencies!
In this way, the BVDW has again confirmed our comprehensive competencies along the digital value creation chain. We are able to support our customers holistically in their digital transformation – beyond eßcommerce as well, with topics like reorganisation and the introduction of e-commerce processes, SAP integration, shop management, and logistics.
So those who want to have digital commerce consultation all-in-one now where to find us.