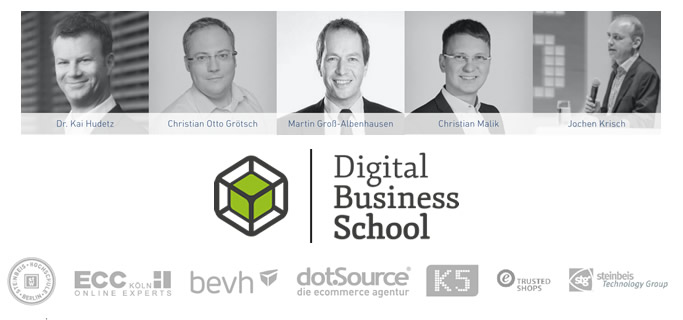 How do we work in a digital world? What companies and industries will survive? What professions are required in an increasingly digitalised value chain?
The ice is getting thin for companies who haven't started asking themselves these questions yet. Digital services in both B2B and B2C are becoming standard and customers just expect them.
But it takes a lot of effort to create the corresponding business processes or even just to build-up the know-how required – at least without professional support.
We train the digital experts of tomorrow
For this reason, we created the Digital Business School in cooperation with the Steinbeis Technology Group. The DBS offers a professional development and a degree programme, which qualifies professionals from IT, marketing, and sales to work in digital commerce.

Successful completion of the certificate in »E-Commerce Management« simplifies entrance into the degree programme »Bachelor of Engineering (B.Eng.) Business and Engineering« (Wirtschaftsingenieur) from the Steinbeis Technology Group at the Steinbeis Technical University Berlin.
Participants not only profit from supervision by renown experts from practical e-commerce, incl. Martin Groß-Albenhausen (bevh), Dr. Kai Hudetz (ECC Colgone), Jochen Krisch (Exciting Commerce, K5 GmbH) and Martin Rätze (Trusted Shops), but also from exchange with leading national and international companies.
We're starting on the 10th of June – registration is open!
The seminars will happen in Jena (Thuringia) and Künzelsau (Baden-Württemberg). The six thematic blocks cover the subjects: strategy & goals, sales & and shop management, structure & design, optimisation & development, marketing & online marketing, as well as a business case. The first block of seminars begin on the 10th of June in Jena.
Half of all the available places are already taken. The next round of enrollments starts in Q3 and the first places have also been taken there. We advise you not to wait too long to enroll:
http://www.digital-business-school.de/anmeldung/