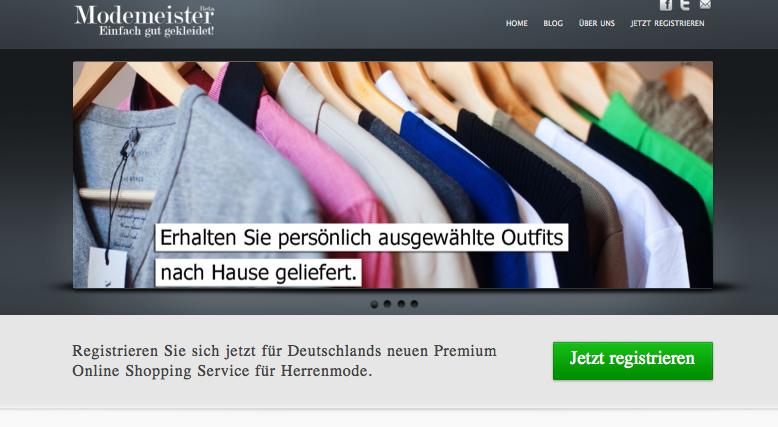 Germany's 'Dressing Men Well' – Three start-ups took in the lead in this mission in 2012: Modemeister, Modomoto and Outfittery. Now it is all over for Modemeister; the site is closed. This step is not entirely surprising; with three competitors, the start-up idea was overcrowded from the beginning. Further competition came in 2013 with 8select (for business) and Kisura (for women).

In the past months the interest in curated shopping, also known as "supervised shopping for shopaphobics" has risen continuously. This could even be read about on Focus.de. In numerous interviews, the founders of Modomoto and Outfittery spoke of growth and enthusiastic customers, while the latter newly delivers to Austria.
It was always quieter at Modemeister. It can be assumed that over the course of business closer, they fell behind the competition, when it came to prominence and that their market share dropped further as attempts to woo customers failed.
The Manager Magazine's Test recently revealed Modemeister's weakness.
There were warning signs: In summer 2012 Torben Schultz tested three curated shopping providers for Manager Magazine. He received feedback, but no parcel from Modemeister, while the other services were convincing. "Two emails, one phone call, no parcel" is how Schultz summarised his shopping experience with Modemeister.
Even then this did not receive any comment via the phone from CEO Tanja Bogumil, but the following statement via email:
» A fast customer throughput is not in accordance with our style and up to now that was valued by our customers. Meanwhile it is sadly not possible to avoid it coming to longer waiting times. We regret that we could not convince you. «
Schultz' comment:
» Of course that is a pity. But it is not a big deal. Other personal shopping portals were faster. «
Clearly the tempo was a big deal for other customers.