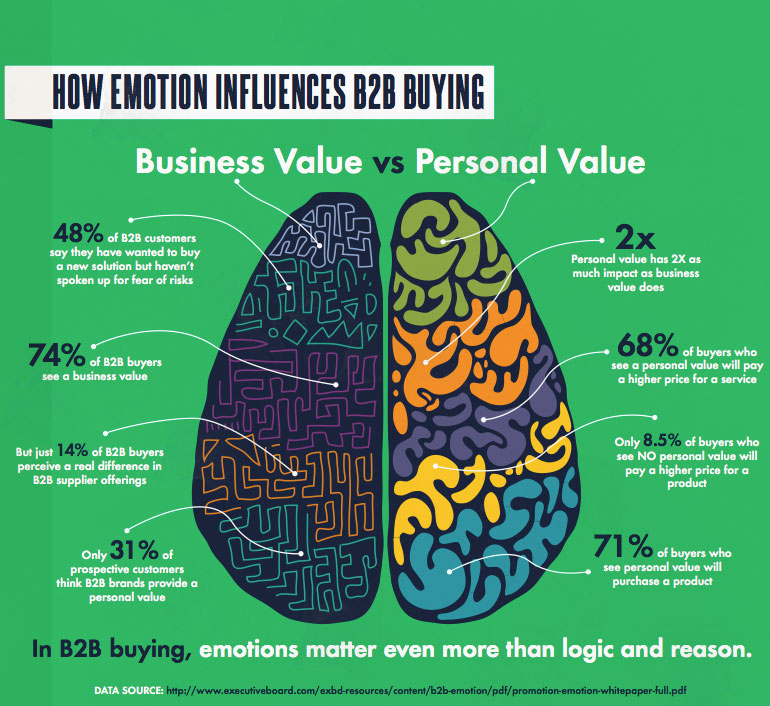 It is no secret that there are no robots sitting in B2B buying centres (yet). Buyers are people and private customers who also shop at Amazon etc. Their purchase decisions give this away. According to a whitepaper from CEB, emotions dominate B2B purchase decisions too.
According to the whitepaper, fear is one of the more influencial emotions. It stops 48% of staff from initiating solution purchases they personally believe to be good. But this aversion to risk is not the most interesting result:

What is more interesting, is that there is evidence that the topic consumerisation in B2B still has a lot of hidden profit making potential. Only 14 percent of buyers notice important differences between different offers. As soon as personal values come into play, everything changes.
Personal use influences twice as strongly as professional use
68 percent of buyers who recognised a personal use displayed an increased willingness to pay
71 percent of buyers who recognise a personal use will buy that product
Conclusion: if B2B would market their products according to the needs of their target group and communicate personal advantages at the same time, they could increase purchase motivation.
Find out more: whitepaper "E-Commerce Potential in B2B"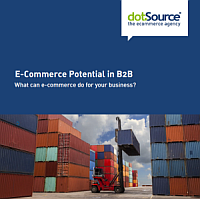 This whitepaper answers the question, what e-commerce can do for brands and industry. Every B2B customer is also a B2C customer and expects the equivelent user experience. It covers: better service, automated customer acquisition, and deployment possibilities for mobile end devices, as well as process optimisation.
Download here for free.