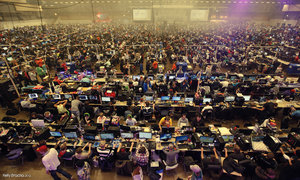 Electronic sport – e-sport – is a phenomenon, something incomprehensible for many people. The typical cliché: darkened back rooms, the only source of lights are the LED monitors, humming computers, a kettle and 5 minute tureen food at the ready, which is washed down by energy drinks. The marketing and e-commerce branches should say goodbye to these clichés as quickly as possible.

What Is E-Sport?
Not everyone can immediately make something of the term. All those videos games which can be played with an opponent are collected under e-sports. The majority of games take place in real time and a clear winner is determined via a best-of-game series. Typical examples are Counterstrike, Starcraft, or League of Legends. At big events, the best players also measure themselves in teams. Prize money these days can go into the millions.
The Target Group "Gamer"
The events are mainly viewed by people who play video games themselves. However, there has not been a definition of a typical gamer since the rise of Android- and iOS apps at least. Gender, age, and social background no longer play any role. There is a huge target group here. Amazon has already recognised the potential and bought the video platform Twitch for milliard dollars. Above all, on Twitch.tv has livestreams to Let's Players. These are people, who game and comment at the same time. It is often unimportant what you play, was counts is the entertainment factor. The most successful German YouTube channel does not belong to a Let's Player for no reason. But this isn't just a German phenomenon: the YouTuber with the most subscribers worldwide comes from Sweden, is called PewDiePie and also makes videos about how he plays the computer. PewDiePie gets over 30 million subscribers with this.
No Less Than a Football Stadium
E-Sport has been around for over 10 years. Well-known events are for example, Dreamhack, the World Cyber Games or the finals of the Electronic Sport Leagues (ESL). In South Korea, e-sport is part of general sport culture and enjoys a high level of acceptance there. This is now rising in western nations. The current e-sport development is being driven by video game League of Legends. The championships of this game took place in 2013 at Staple Center. A total of 32 fans watched. There were more stream viewers than for the Super Bowl. In 2013, the end round of the League of Legends will take place directly in South Korea. This time, developer Riot rented a stadium from the football world championship 2002. A round 67,000 viewers fit into the Seoul World Cup Stadium. There is total prize money of 2.1 million US dollars. This is where the clear professionalisation and enormous reach of electronic sports makes itself visible.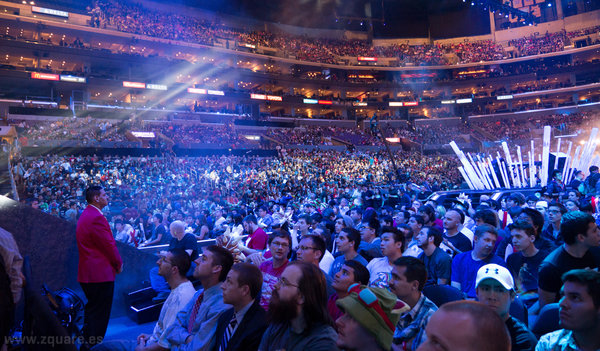 Market with Sponsoring
Brands can use this attention with sponsoring. Every pro team has a well-known sponsor. Some even include them in the name, such as League of Legends favourites Samsung Blue and Samsung White. Hardware manufacturers, such as Razer, Logitech, Steelseries, or Roccat give the players their products, which they then use at the events. At the Gamescon, there was even the Dr. Pepper Allstar Cup. The problem, found in other professional sports, that the athletes may not wear a certain manufacturer's product, does not (yet) exists in e-sport.
Many Teams Have Their Own Shops
A team name can become its own brand through success in various e-sport disciplines. The best example of this is Fnatic. The e-sport clan has existed since 2004 and successfully runs their own fan shop on the basis of hybris. Shirts, mice, and headsets with the Fnatic logo are sold here. The more professional the e-sport team becomes, the more such fan shops will be opened. This is a chance for clothing or hardware providers. The creation of stars within the scene is also helpful here. Some players are recognised on the street and can excellently market certain products with their fame.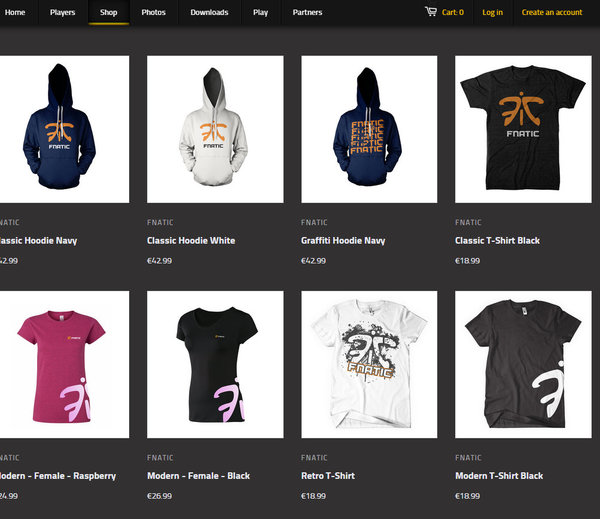 E-Sport Is No Longer a Niche
The fact that terms, such as "killer-games" are being used more rarely, and the trend of gamification shows that the acceptance of computer games within society has increased strongly. In South Korea, the game Starcraft at times achieved the same status as handball in Germany. The number of e-sport event viewers shows that there are no classic nerds anymore and that the scene could be lucrative for the marketing and e-commerce branches.