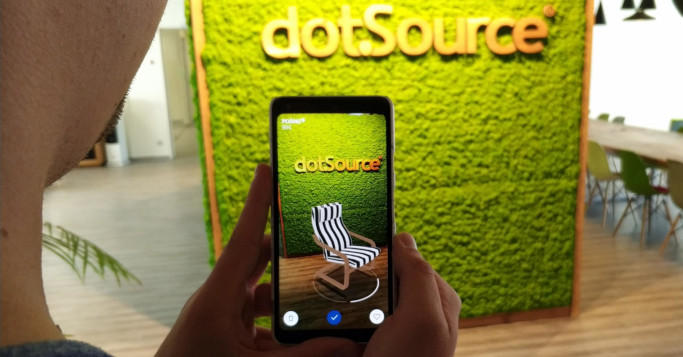 Augmented reality can do more than hide a Pokémon. It enables users to see exciting things that don't actually exist. A computer-aided expansion of reality will affect our daily lives more and more (and!) make them even easier. Already one or two pioneering companies are relying on AR and are developing exciting products for everyday use cases.
From warfare to interior design?
While virtual reality (VR) plunges you into a complete digital world, augmented reality (AR) is about supplementing our real world with digital elements. This idea – and some of the technology – is now more than half a century old. It actually originates from the British military. In 1958, the Royal Navy developed heads-up displays. These help bomber pilots to keep an eye on their instruments for better concentration and a higher hit rate. Luckily for AR, areas of application have been developed that are more peaceful today. Well, in most cases. It's great, for example, when it comes to setting up a shared apartment.
The world needs ideas
Your personal product show
We've all been here: "Oh, let's take a SHORT trip to the furniture store and see if there is something new." But you somehow stay for hours. Ikea manages to fill families with Swedish meatballs as well as carts full of stuff, but they are also a pioneer in AR room staging. Because with the Ikea Place App you can get the Swedish furniture store directly at home. This not only has the advantage of saving you a long journey. But you can also place your new favourite piece directly in the room, you can quickly see whether the new stylish chair actually fits within your own four walls.
The MediaMarkt-Saturn Group is also playing with some AR projects. In summer of last year, a charming avatar by the name of Paula drove several thousand customers through the electronics market and presented products to them via the Microsoft HoloLens – a pilot that has been waiting to be continued.
Machine builders also benefit from virtual helpers when it comes to presenting their products. Because for many, a large machine cannot really be shown at fairs and conferences due to a lack of space. Visualisation with AR also makes it possible to look inside factories and plants. This makes it easier to train sales staff. If you then present the machines you are trying to sell, directly to customers in a sales pitch, they will understand what you are showing them a lot better.
Virtual handbook
Cars are also becoming more and more complex machines. Very few customers immediately understand all functions or symbols on the dashboard or head unit. Usually reading the manual helps. But its limits can be reached quickly. Hyundai and Audi are already using augmented reality to improve the user experience. An app visualises all steps far closer to life than pictures in printed manuals can. It can show the user the difference between different compartments, like where the oil goes and where windshield wiper fluid goes.
AR products are even useful for repairing complex machines faster and more cost-effectively. Because if a system fails, time is money and it is important to keep the machine downtime as short as possible. If the necessary data and repair instructions are available digitally, technicians can take care of the maintenance and service in a timely manner. AR depicts the required tool and all the handles are available as a direct aperture in the working environment.
Logistics
Warehouse workers can benefit from wearables such as AR glasses to simplify their jobs. For this, pickers receive necessary information such as storage location and the number of items to be packed directly by voice message as well as visually thanks to AR technology on the display of the glasses. Advantage: Employees can work freehandedly and without papers. Goods are scanned in with the integrated camera and checked in the system. Not only does AR increase the productivity and quality of every employee, it also relieves them of stress. However, this minimises the actual face-to-face time between colleagues because they can no longer look each other in the eye and communicate directly accordingly.
Nothing ventured nothing gained
Many small and medium-sized businesses are still shying away from using augmented reality. High investment and a lack of knowledge of technology can cause scepticism. But even if the technology has not arrived everywhere, it is worthwhile to experiment with AR in the long term. One thing is clear: Collected experiences may make a difference that later turns out to be a competitive advantage.
Does your company also need a competitive advantage?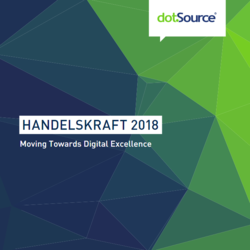 Augmented reality can tip the scales of success. However, this parallelism is far from the only trend in the fast-moving e-commerce market. The Handelskraft Trend book 2018 »Moving Towards Digital Excellence« provides an overview of all trends and is available exclusively for retailers and manufacturers to download.
Request download link here.
The trend book is also available as a high-quality print edition and can be ordered via E-Mail.