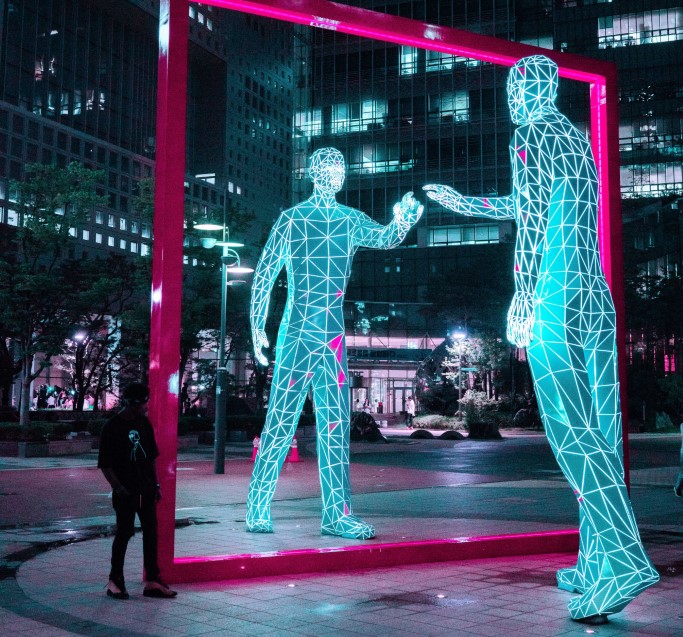 It was not so long ago when various scandals came to light about data abuse and fake news on Facebook. The company was taking heavy losses on the stock market and seemed to have lost credibility and charm to many users, stakeholders, and marketers.
But that hasn't stopped the largest social network: Instagram's attractiveness keeps growing, the company announced in the same breath with the bad stock market news. Especially among younger generations, the photo network is more popular than ever. Even Facebook itself wants to collect bonus points and drive innovation forward. The focus is on augmented reality.
This technology is also gaining in importance beyond the gaming industry. In fact, some companies are already focusing on this and are developing exciting, everyday use cases. The main focus is to make life easier in different circumstances (at work, when purchasing complex products, or building large machines).
Facebook wants advertisers to benefit from the potential of this cutting-edge technology even on the biggest social network.
Try on products with AR and buy directly
Already at its F8 developer conference earlier this year, Facebook announced it is working with companies to showcase products using Messenger. Now a similar feature is to be integrated into the news feed. A select group of brands are currently testing AR ads.
Still, the new feature is said to be limited to users in the US – It allows consumers to virtually try out items like fashion accessories, cosmetics, furniture, and more, before buying anything. The goal here is to help customers figure out before they buy if a product is right for them and how it works in their environment. This can increase sales and reduce returns.
Ty Ahmad-Taylor, VP of Product Marketing, responsible for Facebook's global marketing solutions, said the AR application could bridge the gap between offline and online shopping experiences.
More commitment to mobile advertising
But how do you imagine AR ads? At first, they look like regular in-feed ads, but they include a "Tap to try it on" option. This then triggers the AR functionality. If the user then likes, such as with new sunglasses on their face, they can immediately order the product they want, seamlessly.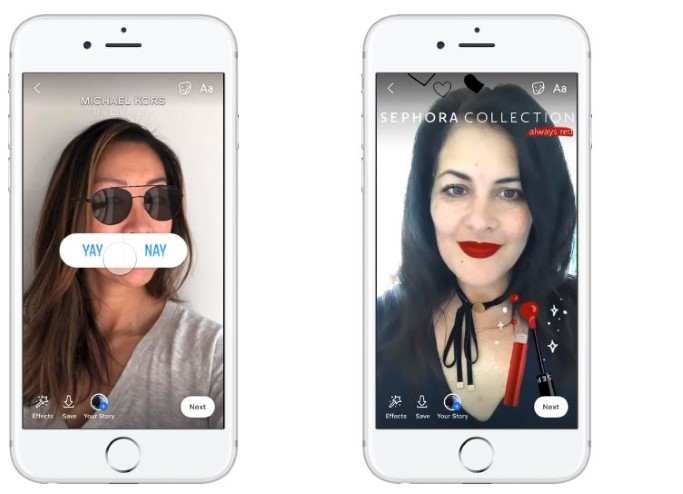 This new path is initially aimed at the fashion, furniture, and beauty industries. The first brands that have already tested this feature are among the most exclusive and expensive manufacturers within this group: Michael Kors and Sephora. Other companies such as NYX Professional Makeup, Bobbi Brown, and Wayfair will probably start their own tests this summer. And so this innovative new ad format will become available to more and more industries in the coming months.
The camera effects platform as a base
Technically speaking, the AR display is based on the camera effects platform, which CEO Mark Zuckerberg presented at the F8 last year. The idea behind it is simple: Through the Facebook camera, one can interact with digital elements that are placed across the real world. The most obvious application is a selfie filter, but also a chair filter, and much more are conceivable.
The camera effects platform gives artists and developers the power to create effects for the Facebook camera, providing interactive augmented reality experiences. The aptly-named AR Studio is the hub of this platform. The benefits of the Facebook AR campaign are that the tool is very user-friendly and easy to use and Ficus Kirkpatrick, the Engineer Director responsible for Facebook's AR projects, says:
» "We're aspiring to have the easiest to use creation tools. […] You don't have to know code to use this. Artists and creators who just want to make art can play with it too." «
Also, experiment Facebook with augmented content. With "Target Tracking Technology" and AR, the social network wants to generate immersive and interactive experiences. Movie posters have already been added accordingly. The potential is undoubtedly enormous – not least because Facebook has an unsurpassed number of users compared to any AR competition.
Our 5 reading tips of the week
Facebook is testing augmented reality ads in the News Feed [Techcrunch]
Facebook kauft das Vidpresso-Team, um Live Video interaktiver zu machen [onliemarketing.de]
Apples Post-iPhone-Ära: AR-Brille soll 2020 kommen – ein Apple-Auto in fünf Jahren [t3n]
Wie 5G die digitale Werbung verändern wird [Internet World Business]
L'Oreal is bringing its 'try before you buy' AR tech to Facebook [The Drum]