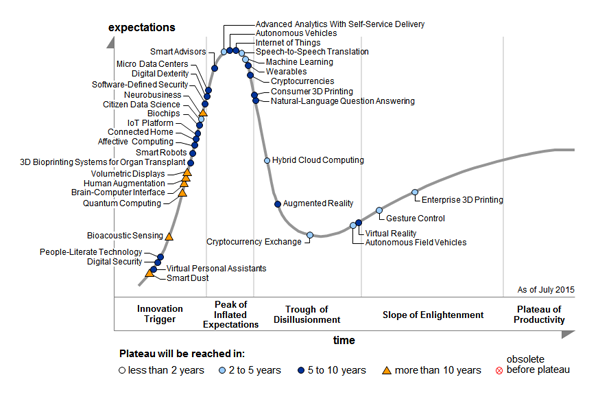 Marketing research institution Gartner has been examining what trends are where with their "Hype Cycle" for 20 years. Already arrived at the productivity phase, or does the valley of the shadow of disappointment still lie ahead? This analysis offers a hysteria-free perspective on current tech hypes.
The following trends are totally overrated and represent the peak of inflated expectations: self-driving cars, next-generation analytics (understandable to everyone, even without specialists), Internet of Things, instant language translation and machine learning.
3D printing in industry, virtual reality, and the deployment of gesture control are things to keep on the radar. These developments could soon disrupt the way we trade.
Anyone who thought that the robots will take over the economy and our lives in the next few months will have to wait about five to ten years for current futuristic hype-visions come true.