Shopping habits change…all the time. An ECC survey, in cooperation with software manufacturer Hybris, has now confirmed it. The classic "I only go into brick-and-mortar stores" shopper is almost extinct. To react to the wishes and new habits of customers, online traders offline, and offline traders online, have to understand – well, cross-channel.
Selective shoppers are on the rise
"Cross-channel in flux – the information seeking and shopping behavour of the consumer Vol. 7" is a approximate translation of the title of the ECC Cologne survey. In fact, the statistics it provides attest to a change in customers' contact point with the products of traders. The selective shopper, who buys online and offline, reigns with 61 percent in DACH countries. In contrast, only 31 percent shop purely online and only 8 percent are traditional store shoppers.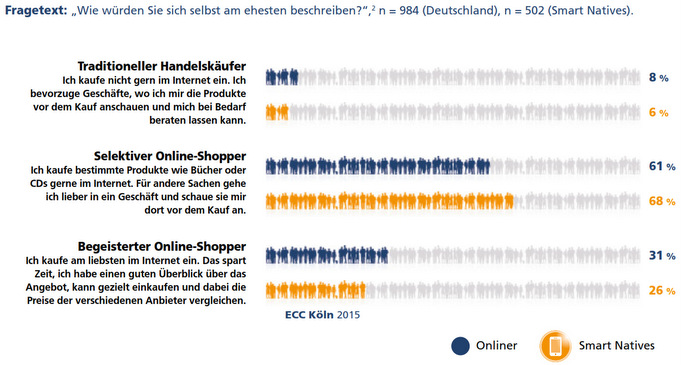 Neither online traders nor stationary merchants can be considered to be the future by themselves. The customer wants both, ideally, connected. BTW the statistics are even more extreme with smart natives, so the under 25s who use mobile devices intensely.
Looking for information online
So what does this cross-channel behaviour actually look like? The statement that people sometimes buy offline and sometimes online isn't enough. The statistics on cross-channel information searching show this most of all. More than every third purchase in a brick-and-mortar store is prepared for online. This equates to 40.3 percent turnover. In contrast, 10.3 percent of offline customers buy in an online shop in the end.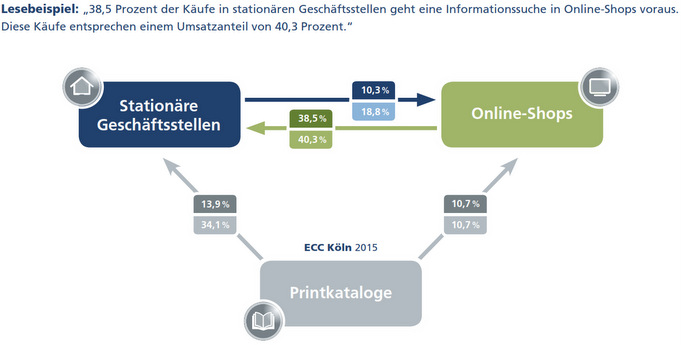 Stationary traders used to be worried that customers would first get advice in a store and then go online to make a purchase. But this worry has changed over time. The ECC survey shows the opposite trend:
» Online is decisive for preparing a stationary purchase, but preparation in a brick-and-mortar store plays a lesser role for online shoppers now. «
It follows that a large number of online shoppers have gone through a steep learning curve when it comes to getting advice, e.g. via product descriptions. At the same time, stationary traders should realise that you don't have to own an online shop just to sell online, but to create an entry point for the customers to get into a brick-and-mortar store – your own if possible.
But you do have to keep in mind that Amazon is the number one product search engine in the internet. One third of online buyers get their information from Amazon. Only 15 percent get the Google search engine to find product information for them.
Click & collect – what else?
The study also made the importance of click & collect clear. With click & collect, the customer orders a product online and then picks it up at a designated station or a store. But if, and how, click & collect is implemented differs and is branch specific.

In the branches surveyed, a total of 30.9 percent of those asked had already made use of click & collect. 44.1 percent could not imagine using the service in the future. Media Markt's marketing department should be especially excited: 74 percent answered the question, "what companies do you know who offer click & collect," with "Media Markt." All the noise about the electronics store's drive-in counter seems to have been worth it.
By the way, most customers would use click & collect if they were pressed for time. This is actually not really logical, as the service only saves you 96 seconds according to a study by Stella Service, and so is not the non plus ultra in time saving.
Next stop cross-channel
Tradition meets modernity – this is roughly how you could sum-up cross-channel. The borders between channels get blurred, and disappear altogether. The complaint that customers get advice offline only to buy online in the end, no longer applies. On top of this, there is the importance of mobile devices and self pick-up via click & collect.
» This means not only that the concept if viewing channels individually is not going to work in the future, but it also ushers in the end of pure play – both for stationary traders and online pure players. «
Even though cross-channel services are in demand with customers, the right strategy cannot be taken as red with traders. There is still a lot of potential for improvement here, the use of which has to offer the customer value-added.