Companies, like InnoGames and GoodGames are well-known for their entertaining online games, which are intended for the casual gamer. But the game manufacturers have far more to do with the e-commerce branch than it seems at first glance. Even a shop which only sells virtual products for a game needs to be optimised.
In contrast to games which you buy in one payment, Free2Play games rely on the continual willingness of the player to pay. GoodGames for example, shows how such a business strategy works. Other game developers also use ingame monetisation, especially with mobile apps. But how does this branch, which pulled 29.3 million German gamers to their monitors in 2014, work?

The bait is called "free"
Use something without having to pay for it. Fun, without investment. That is what Free2Plays (F2P) want to get across to the customer during first contact. And is seems to work. If you look at the top list in the category games in the Google Play store for instance, you rarely see games which cost anything. Clash of Clans, Candy Crush Soda Saga, or Empire: Four Kingdoms, are just some of the F2P games which head the list. Also in the area of PC games, games like League of Legends or DOTA 2 are almost undefeated. When it comes to gaining new potential players, the premise "thrifty is nifty" still seems to work.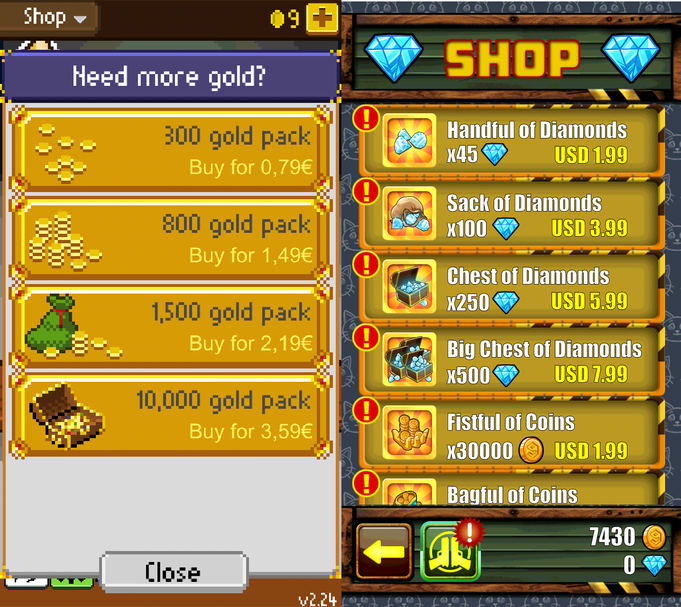 Monetisation through Ingame shops
The financing of these apparently free games functions via a shop in the game, which sells items. The palette of objects on offer ranges from simple decorative articles for your characters, to Boni, which speed-up the game. Particularly when it comes to the latter, there are often accusations of the principle of Pay2Win, buying a win, which puts a damper on the fun for the non-paying community. Alone in the area of role playing games, F2P titles generated 13 milliard US dollars in 2014 through ingame purchases. Another jump forward in the branch is expected with the introduction of virtual reality glasses to the market, as this medium is also ideal for F2P games.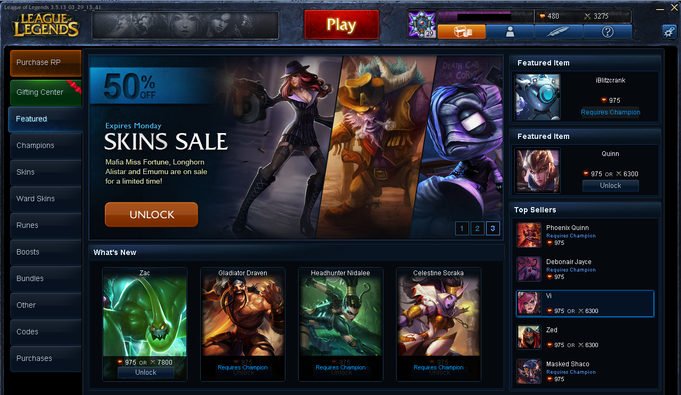 Shop optimisation isn't enough
The example pictures show what such ingame shops can look like. Especially the League of Legends shop is effectively professionalised: functional internal search, recommendation lists, and time-limited offers. Of course the range cannot compare with giant online shops, like Zalando. On the other hand, providers of successful F2P titles have managed to make the player believe that they absolutely need a certain item. An optimised shop helps sell virtual wares. It is however, more important to integrate a small offer into the game in such a way that the player gets the feeling they have to buy something. Shop, offer, and game concept have to be in sync, otherwise there will be accusations of pay2play and success will be elusive. With their strategy game, riot managed to make an annual turnover of 946 million US dollars through the sale of purely cosmetic articles.
Shop system providers still few and far between
There still aren't many shop system providers who focus on complete shops. Most shops are self-developed and do without professional software, like the complete solution from Hybris for ingame purchases. This software is supposed to improve shops with micro transactions and one-click buying, and connect it with other channels. The company Stryking also deals with transactions in F2P games, primarily in mobile games. Stryking doesn't just focus on shop development, but also helps market the games.
Game and shop both have to excite
An online shop has different requirements, depending on the target group and branch. In the case of ingame shops for F2P games, it is more important that the objects awake a need in the user, whether cosmetic or game accelerating. The ingame purchases have to relate to the game concept and harmonise with each other. Many game developers have understood these principles and market themselves especially well, as GoodGames and Riot have shown. The future of free2play has just begun with the spread of casual games via smartphones and tablets. Whether or not this casualization through F2P titles will benefit the core gamers remains however, doubtful.
We're interested in your opinions and experiences with ingame shops! Comment with your experiences and thoughts.