Now that startups, such as Outifttery and Modomoto, have well established male dominated model curated shopping, Kisura is the start of personal shopping services exclusively for women. We were especially interested in how this business model was adjusted for a female target group, a target group well known to be one of the final puzzles in e-commerce. We spoke with CEO Tanjoa Bogumil about curated shopping and gender commerce.

Let's jump right in: How old is the typical Kisura customer and how large is their shopping cart?
Our typical customer is between 30 and 50 years old, very online-savvy and normally has a well-developed fashion sense. The average shopping cart is about 400 euros for four items. By the way, after only 3 months we are already happy to have returning customers
What is in more demand – a complete makeover, or more consultation without a change in style? Is it normally about specific occasions or general advice?
Both. About half of the women want a new look – either because they have undergone a change in taste or figure. The other half are looking for the right dress or skirt for daily life, but also for a special occasion – we have already dressed brides for their civil ceremony.
At the moment your collection offers everything from entry level pricing to the premium segment. Will there be a specialisation in one particular area in the long term?
When putting together our assortment, we orientate ourselves around the preferences of our customers. At moment we are realising that it is exactly this wide portfolio which is in demand and that with it, we can fulfil a plethora of customer wishes.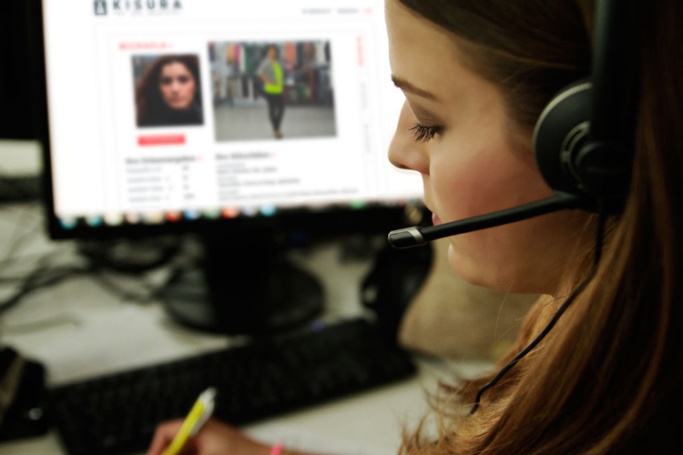 At Kisura, you stress the importance of extensive exchange with the client before you send their parcel on its way. Other curated shopping providers also adjust their advice according to the client, but on the principle of trial and error – what the customer doesn't like will be returned. Why did you decide to do it differently?
At Kisura, consultation and inspiration come first. Getting to know our customers personally is especially important to us. That is why we take our time, especially for our first contact with the customer, which normally happens over the phone. After a personal interview, we present the customer with a selection in their account's virtual show room. That is where the customer then chooses the product to be sent to them at home. Should the selection not meet their taste, our stylists always take the customer's feedback on board and offer further alternatives. Finally, our customer makes the active decision to buy. In this way, we are able to ensure that only those products are sent, which the customer actually wants. From our perspective, this approach is both sustainable and economical.
In contrast to other curated shopping providers, you plan to demand an extra 49€ for consulting. What differentiates you from the competition or from stationary business, where consultation is included?
Sadly, good consultation has become a rarity these days. From our own shopping behaviour, we have noticed that in both stationary and in online trade, you tend to brows yourself and sometimes even buy things without being certain whether or not they even suite you. In the end, the wardrobe is full- but there is a lot you could do without. This is exactly what we wanted to change with Kisura. Therefore, we place great worth on expertise when it comes to consulting and the choice of outfit. In our experience, it is important for the client to know why exactly this or that model was chosen for them. Rather than just getting fashion delivered home, this allows the customer to find out what their adviser was thinking and how for instance, they can best combine their new items with their current wardrobe. In the existing form, the consulting service is currently free for new and regular customers.
How do you find your staff? What does a consultant at Kisura have to be able to bring?
Up to now we have built up our team exclusively through personal recommendations. In the selection of our stylists we look for the right mixture of experience and passion. On average, our consultants have four years' experience in the fashion industry when they start with us. Previous positions include brands such as More & More, Wolfgang Joop, Bogner, their own fashion labels or larger online shops, such as Bestsecret.
The debate around gender difference is currently raging in e-commerce as well. Critics of the theory, that women shop differently, do say that men also have as much enthusiasm for their hobby as the typical women for show shopping. What do you stand in the current debate?
We neither want to depict men as shopaphobics, nor women as shopaholics. For us, the focus is on the person, with all their individual facets, needs and desires. We reflect on that which, in our opinion, has long been neglected: getting to know the customer personally. By the way, there are also women who fit this supposed male stereotype and who would prefer to spend their time doing something other than extended shopping trips. Here we are happy to offer our support.
In your opinion, what has to happen with online shop to get women excited about online shopping?
We are convinced that it is time to put the customer in the spotlight and really engage with their needs. Truthfully – what woman, looking for the one perfect dress, wants to click through thousands on models online? We get to know our customer first and then recommend the fitting product.
In an interview with Gründerszene, I read that you think of yourselves as Vogue 2.0. So far there is little to see of this claim on kisura.de, the blog is still hidden in the newsroom. What can customers look forward to in the future?
That should be understood symbolically. Renowned magazines like Vogue aren't merely booklets. Over the decades, they have developed into a statement for the modern, fashion-conscious woman. We think of ourselves as a useful addition, selecting trends and fashion individually and matching them to our customers. Furthermore, we are already working on improving online interaction with the customer. Our customers can look forward to this exciting new feature.