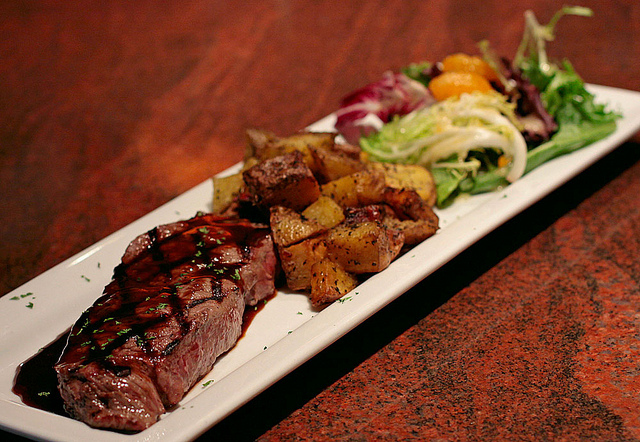 December is the month of large meals and enjoying special moments with your loved ones. I am sure you are looking forward to tasting a delicious honey-roast confit of duck, a tasty rabbit fillet or a juicy T-bone steak. In one click you can find several innovative possibilities that let you get the most exclusive meat at your table. How can online businesses conquer the consumer's palate and win trust?
Traditionally buying fresh meat used to be an activity only reserved for stationary butcher's shops. The extreme importance of this kind of product for us makes the shopper's presence at the point of sale almost obligatory. It is normally an activity that you usually do personally because only you want to decide which fillet to purchase and which not.
Steak home delivery services
However more and more companies are taking the leap to e-commerce, despite of the obvious barriers they must encounter, encouraged by the continuous increase of meat consumption in Europe and the emergence of attractive niches

Furthermore, the German Butcher's Association states that 2.4 million tons of meat products were consumed in Germany in 2014, what corresponds to 29.5 kg per capita on average. In contrast, consumers are still reluctant to order online as only 0.4% of sales were generated via Internet. Despite of this, there is a new business that wants to turn this tendency around: kaufnekuh.de exploiting the concept of "Crowdbutchering".
The proper farmer is the one who offers the whole cow for sale. Customers can order a meat package of seven kilograms for about 100€ which includes beef steaks, minced meat and meat rolls. The bones can also be processed into glue and the skins into leather, as per request.
Carne Villa Maria, Spanish story of success
At the same time, 2000 km away from Baden-Württemberg, in Madrid (Spain), the family business Carne Villa Maria decided to launch a web shop together with their 70 year old traditional butcher's shop based in Mercamadrid (the main market of fresh food in the capital of Spain) in 2010.
Their recipe's formula is based on a quality product and excellent service. "The product is the key to the customers' trust in the online world of meat. The meat should be delicious and premium because if not customer will not return , what it is essential to succeed", Cristina Chacon, founder of Carne Villa Maria, pointed out to Handelskraft.
At the same time, they are using the word-of-mouth to conquer new palates so that they foster their relationship with customers and customers increase their loyalty to the brand. "Recommendation is the key to attracting new customers. Our own customers recommend us to others just because the product and the service are very good. Definitely, our customers are our best brand ambassadors", Chacon underlined.
Logistics, main disadvantage for profitability
Nevertheless, "not all that glitters is gold" in the online world of meat trade. The British Agriculture & Horticulture Development Board (AHDB) states that the viability of offering order online services seems to be uncertain, however, as a number of butchers cited the high overheads associated with chilled deliveries and website administration as a barrier to profitability, especially on small orders.
On the other hand, although Cristina Chacon recognizes logistics as the main barrier due to the high costs associated to this special delivery services, she prefers to underline the advantage of using this shipping method: "The meat arrives to the customer's table in optimal conditions".
If you are wondering what other alternatives are currently available in the market, the AHDB looks kindly on the 'click and collect' which "reduces the need for any transport. It also aligns far closer to modern shopping trends of not planning meals ahead and doing smaller purchases more frequently".
In conclusion, if you want to take a leap in this superb world, use the product to convince customers palates and provide an excellent and tailored service to win their trust., while to overtake the barriers associated with high shipping costs, you should study which option matches better with your expectations and consumer's needs.
Our 5 reading tips of the week: