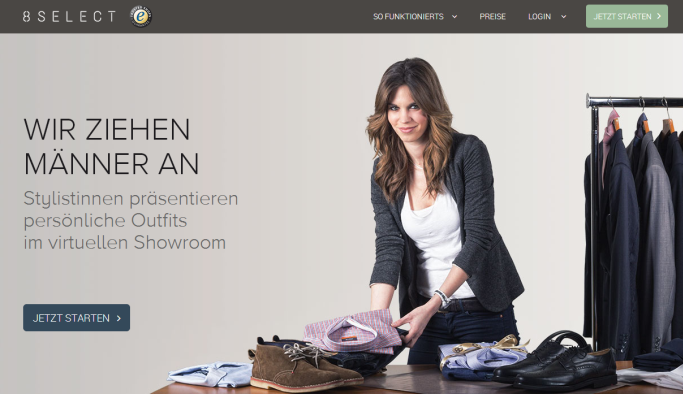 Admittedly, 8select is the runt of the curated shopping providers. It also is currently difficult not to disappear in the shadow of Outfittery, who have millions in funding, shine with a TV spot and who brought home the prize for "Leader in the Digital Age" at the CeBit 2014.
How to survive? Be just as fast paced. Hone the concept, before Outfittery goes in the direction of the mass market. Because even if the Berlinians have the media buzz on their side at the moment, I find the innovations at 8select more interesting.

From the personalised showroom to the individualised shop
Firstly, there have been definite visual improvements: it has moved away from a single focus on business, the shop design is more appealing and emotional, and the logo more adult.
Secondly, since the end of 2013 they have moved away from the classic curated shopping concept. Personal consultation ending in the shipment of a clothing parcel is still offered, but the showroom concept has been developed further, already making 8select stand out in our shop last year.
The personalised shop "My Shop," in which it is possible to shop without consultation, developed out of this. Every customer has an individual shop, but can also get advice if there are questions. The shop contains only products which are recommended according to the fit, style and previous order information. All products presented are immediately available in the client's size.
The next step in the evolution of curated commerce?
The combination of personalised shops and consultation is an innovation which doesn't just make sense from the customer's perspective, but also strategically. There are hardly any other examples of online shopping and stationary consultation competence being so well combined.
The vision to reproduce all functions of a classic gentleman's wear shop online is pursued vigorously by 8select. Even there, detailed outfit advice for a special occasion is not always desired. Sometimes simply a shirt which fits with the current wardrobe is enough.
Incidentally, the provider is regaining assortment formation and consultation competence. These classic trade functions are being increasingly performed elsewhere.