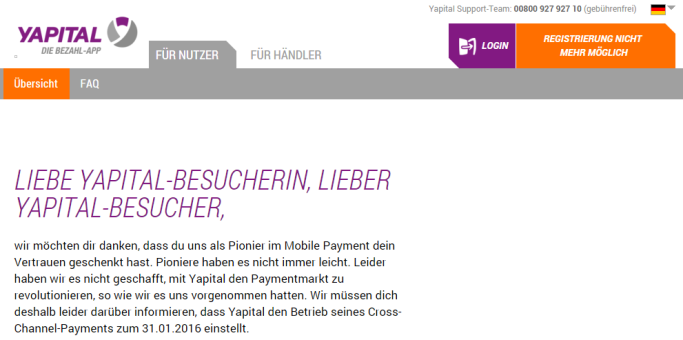 I type "Yapital" in my browser, the homepage is loading and, at first glance, my eyes look upon the following line: "Unfortunately we must inform you that Yapital is going to stop operating its cross-channel payments on the 31.01.2016".
I still remember the day when Otto launched Yapital, the first European cashless cross-channel payment system. We were all looking forward to it because it was as if we were living through the beginning of a new era for E-Commerce. However, 2 years later, all hopes and expectations have been up in the air. Perhaps it was too early?

The facts: Stats don't lie
According to the figures in AGOF's monthly market media study "Internet facts", mobile-only is still a marginal issue in Germany nowadays. Only 3.2% of people who belong to the most mobile-savvy age group (14-29) exclusively use their mobile to make deals or purchases.
In the USA the symptoms don't vary at all as two-thirds of shoppers won't be using any mobile payment system, in spite of the several options available, according to the report released by Bankrate.com and appeared in ecommercetimes.com
Why didn't Yapital succeed?
Personally I think shoppers are not totally familiarised with the process yet and don't feel comfortable enough using it. I asked some friends and family about it and the results are significant. I have friends that don't rely on their mobiles to do their shopping or transactions because they perceive that it is not secure enough. Others simply say it is a matter of daily routine and convenience. On the other hand, some of them find it very practical and easy to be able to use their mobile for doing whatever they have on their mind (shopping, ordering food, or paying the rent). What about you?
However, Bankrate pointed out the availability as the major problem, as not every store accepts mobile payments yet.
Still room for optimism
However, there's still a ray of hope:
Yapital achieved considerable results: 2500 trading partners with 8000 acceptance points and more than 100,000 users; figures that we should keep in our records as reference.
Europe has the highest smartphone penetration in the world, and retailers and other companies are trying to take mobile devices more seriously in order to engage more costumers. For example in online gambling like bet365 or some retailers like Zara.
Additionally the stats show that the combined use of mobile and stationary devices is clearly spread in all age groups and has become the rule in the two younger groups, exceeding in both cases the 75%.
After all companies of every sector should make a combined effort and be more mobile-focused in order to introduce the use of mobile devices as a routine.  The second essential step would include transparency and willingness to explain the process to follow and the security improvements.