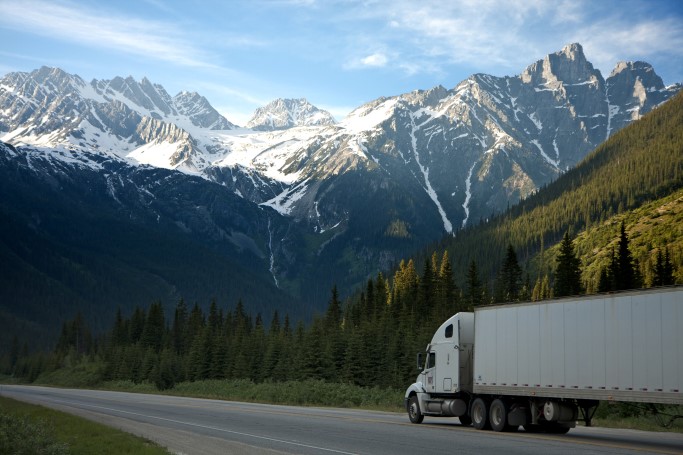 Logistics is always on the move. Companies and logistics service providers are always developing new solutions to deliver products not only quickly, but also as conveniently and sustainably as possible. Whether with messengers or robots, with vans, cargo bikes, or drones.
Retailers have been investing in end-customer delivery with their own fleets for a long time. Newcomers with innovative approaches such as the online supermarket Picnic give the industry new momentum. What role will big delivery services still play in the future? Where will parcel service providers develop? Will retailers and brands even expect to build up and offer their own delivery services?

Take the last mile to the next level
The "last mile" – the final step from the logistics centre on the outskirts to the customer – is still a great challenge. From Amazon to Zalando and from Edeka to Rewe – companies are striving to expand their own supplier network and thus compete with the established ones.
The reasons are different: Online giants have grown enormously in recent years and have built logistics centres around the world. The number of regular customers is constantly increasing. In this way, more data is captured and shopping experiences can be optimised accordingly.
A seemingly win-win situation: Major online retailers have access to the end customer and ensure that the delivery is made under the best possible conditions. Manufacturers can focus on what they do best: Production and branding. The distances are getting shorter, and that's great for the environment. Customers like shorter delivery times.
This has already become a reality in the US, for example, Target acquired Shipt and in order to strengthen its same-day delivery offerings. But when large corporations build their own fleets, the consequences for UPS & Co. are likely to be catastrophic.
The delivery of groceries is still an unsolved challenge
Although the German e-food market is booming and there are more and more opportunities to buy food online, grocery shopping is lagging behind the market volume of the fashion and electronics industry online. In addition, consumers shy away from ordering groceries online: Almost 57 per cent of Germans have never done that.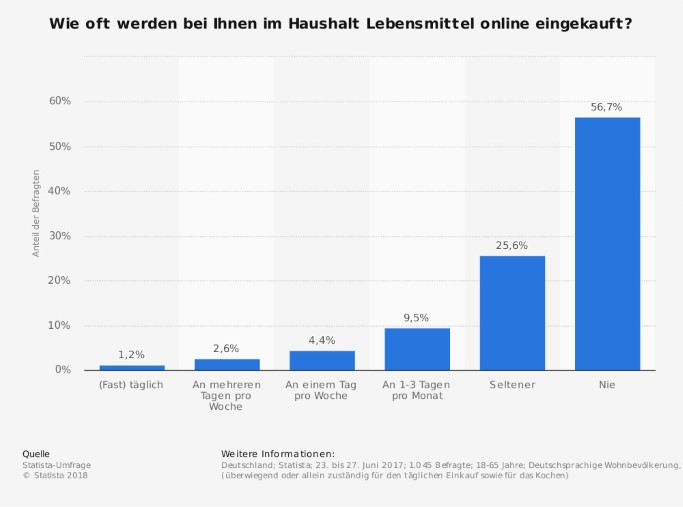 Instead, consumers prefer to see for themselves the quality of their food before they make the purchase. In addition, there is a comparatively high density of supermarkets per square kilometre in Germany. It hardly seems necessary then to order something online.
And last but not least, the delivery of food is particularly perishable. Foods have special requirements for packaging, temperature control, and shipping speed. For this reason, a new DIN has just been developed to standardise these requirements.
No wonder, then, that more and more retailers are developing their own delivery services. Edeka and Rewe already offer their own delivery service in order to best serve their customers at home. But the division is still not profitable for them.
But besides Edeka, Rewe or Lidl, other players are pushing for the German online food market: Behind Amazon Fresh is the bombastic Amazon logistics, the Dutch online supermarket Picnic wants with its own technologies (from an app and an electric van fleet, based on algorithms, and optimised routes) to be able to deliver to customers 20 minutes after their order is placed. In addition, Picnic promises affordable prices and free delivery.
Edeka has made provisions: The supermarket group holds shares in their competitor Picnic. Estimated to be about a whopping 20% of all shares.
Our 5 reading tips of the week
Amazon baut sich eine eigene Lieferfirmen-Armee [Logistik-Watchblog]
America's largest supermarket chain is launching a fully driverless delivery service [The Verge]
Logistik-Start-ups mischen die Branche auf [Internet World Business]
Amazon will Logistik-Unternehmern Autos und Benzin schenken [Wired]
Amazons nächster Schlag gegen die Paketdienste ist eine Art Inkubator [t3n]