Physical locations, whether a pop-up store, showroom, or full-fledged flagship, are starting to gain importance again. Especially as marketing and service channels. Modern locations are digital, intelligent, and unique. They offer value to the customer through a skilful combination of staff and technology, that each channel could not reach by itself. Zara gets it, and demonstrated that they do, by opening their first ever temporary pop-up shop in London.
What do stores offer their customers? What are, currently, the biggest challenges being faced and what solutions are already being implemented?
The customer journey continues to get more complicated
The complexity of a customer journey is, for retailers, continuing to get more and more complicated.
The fact of the matter is, consumers often go back and forth between different channels – online, mobile, catalogue, physical shops – when searching for information about a product they want to buy. Therefore, serving customers on all channels is a challenge. To take care of this, a technological masterpiece can be created.
New stores can merge online and offline experiences and teach tradition chain stores a thing or two about what a successful omnichannel scenario can look like.
Zara's pop-up mirrors the future of retail
The first Zara pop-up, which opened in London's Westfield Stratford City, is dedicated to connecting online and offline. There, customers can order things online, but in the store. Orders received before 2pm will be delivered the same day, while orders received after will be delivered the next.
This innovative store heavily relies on technology. The store offers a simple payment system that can be seamlessly linked with mobile devices through Bluetooth. Likewise, mirror-like screens recommend products and styling that customers can then scan using RFID technology. Smart mirror present various possibilities of combining with other clothes and accessories in real size.
The new flagship will be even better equipped technologically
At the same time, Zara is renovating its flagship store with the goal of improving the customer shopping experience through technology. For the first time ever, the store will include an online focused area.
The new flagship will also have an automated online order pick-up facility with two small stores that will allow their customers to pick up their Zara.com purchases any time. This system includes an optical reader that scans a QR code or accepts a PIN code that the customer received at the time of purchase online. In just a few seconds, the delivery occurs via parcel box.
Behind the scenes there is a dynamic robot that goes through a small warehouse with the ability to handle up to 2,400 packages simultaneously.
The integration of technology as a success factor
For Inditex CEO Pablo Isla, this is the path to success. He explained that the two new concepts mentioned are:
» "…another step in the strategy of integrating our stores into the online world." «
Leading brands and companies, such as Zara, Adidas, Mister Spex, and Ikea have been experimenting with innovative and automated features such as interactive dressing rooms, self-checkout, touch screens, virtual advisers, and mobile-enabled staff for years, to see how customers increasingly respond and react to digital innovations in their branches.
The implementation of digital technology increases the value added for consumers and helps to optimise and better manage processes and resources. But not just that. According to the Accenture Strategie, companies that want to be at the forefront are starting to digitise their value chains as soon as possible, if they have not already done so.
According to the market research firm, these five technologies will be fully operational by 2020 at the latest: Internet of Things, Artificial Intelligence/Machine Learning, Robots, Digital Traceability, and Augmented/Virtual Reality.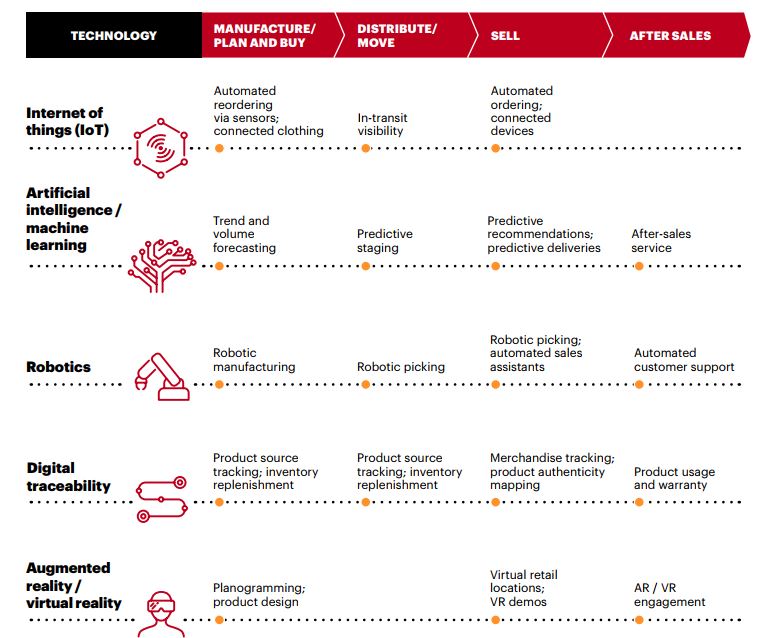 The final goal: Offer shopping experiences with added value. Retailers and brands have to integrate digital and networked devices as a key part of the shopping experience to make it easier to visit a store and make purchases.
Our 5 Reading Tips of the Week
Das sind die neuen digitalen Services am POS [Internet World Business]
New Technologies That Will Change How Consumers Shop In Store [Forbes]
Hornbach: Smart Home erleben [Retail Technology]
Six ways that new technology will revolutionise shopping [Wired.co.uk]
Tesla will showcase its solar tech with expansion into Home Depot stores [Digital Trends]