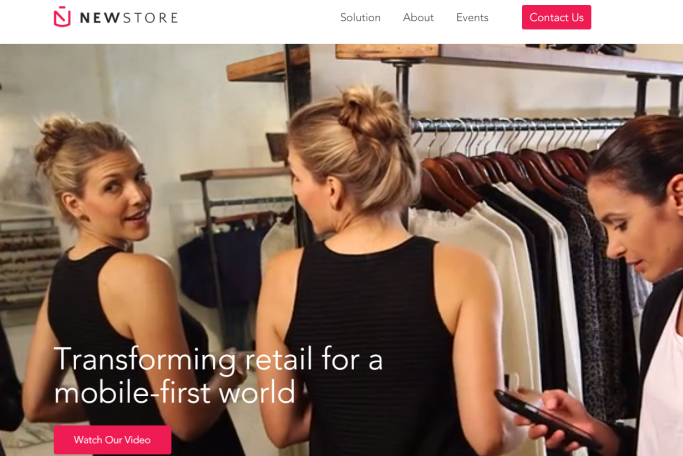 NewStore, Stephan Schambach's third e-commerce platform, is live. After e-commerce monolith Intershop and SaaS solution Demandware, the digitalisation of brick and mortar retail is the next item on the serial entrepreneur's agenda. Mobile-first, of course:
» NewStore provides the only mobile retail platform that promotes conversion, boosts engagement, unifies offline and online, and modernizes fulfillment.

Working as a Demandware Link Partner and in conjunction with existing ecommerce platforms, NewStore allows brands to deliver a mobile-first retail experience designed around how consumers want to buy today — anywhere, anytime, with single touch simplicity. «
The video hints at the direction NewStore takes:

NewStore aims at solving several fundamental problems that retailers have to face in times of omnichannel commerce: low conversion rates on mobile devices, integration of online and offline, as well as retailers' lacking creativity when it comes to developing new forms of interaction for mobile customers. Even Amazon's leading position in terms of convenience is targeted.
For these issues the mobile based platform provides a solution that promises high conversion rates and standardises the shopping experience throughout the channels. The company has already raised $38 million. The main investor is General Catalyst Partners. LLX Global Business Services SA is introduced as the first customer. The company is service provider for brands like Jimmy Choo, Bally, and Belstaff.
The seamless mobile shopping experience is supposed to result from a cloud and mobile based layer that integrates the existing e-commerce system landscape without major adjustments. Brands can offer their customers higher convenience and ensure stronger interaction and customer loyalty. More turnover thanks to instant gratification with only one touch.
Stefan Schambach still wants to go further: the press release states that mobile apps will become even more popular than traditional online shops. Now the next step is to rethink omnichannel commerce together with the brilliant minds from CouchCommerce and GoodsCloud.