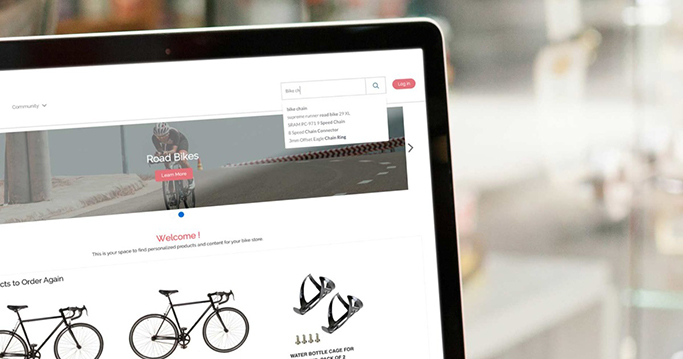 Let us assume you are looking for a very specific product online. What do you expect from an online shop? It is quite simple: you want to find the product as quickly and as easily as possible. So what do you do if you cannot find the website's search function right away or if it does not return the desired search results? Well, you switch to another shop without thinking twice. This shows that the search function can be a decisive criterion when making a purchase.
Nowadays, no one is willing to go on a long and cumbersome product search. For 74% of B2B shoppers, a sophisticated search function is the most important shop functionality. In other words: the quality of the search function significantly influences the usability of a B2B shop as well as the bounce rate and conversion rate. Nevertheless, the search function of many online shops is still not satisfactory.
Smart Search Functions Reduce the Bounce Rate of Online Shops
An intelligent search function ensures that customers can directly find the product they are looking for. Search results are generated in milliseconds and an intelligent algorithm delivers targeted results, for example by identifying and correcting errors, making suggestions and recognising automatic and manual adjustments. An intelligent search function can also easily be adapted to suit company-specific processes. It enables customers to enter the purchasing process more efficiently and to make purchases more quickly.
Fault Tolerance: Correction of typing errors and integrated »Did you mean« function
Thesaurus: General linguistic usage and colloquial expressions are taken into account
Autosuggest: Intelligent text and product suggestions are presented via preview window
Faceted Search: Filter options allow customers to narrow down products and make search easier
Semantics: Search word combinations with properties in the search field are made possible
Results Management: Individual products can be highlighted or faded out in the results list
Smart Search Functions with the Right Partner
We are extremely delighted to work with our new partner Coveo to make search functions and user experiences even better. Coveo is a Canadian software-as-a-service company with headquarters in Quebec and offices in the USA and Great Britain. Coveo's smart search technology uses artificial intelligence to quickly deliver relevant results and thus improve user experience.
Heidelberger Druckmaschinen AG was the first dotSource client to use this technology. The Jena digital agency and Coveo integrated the software solution into the Salesforce B2B Commerce platform. The Coveo search engine significantly improves the quality of search results and also allows for the implementation of features required by the client, for example a thesaurus, fuzzy search, search replacement terms, etc.
Coveo is integrated into the standard Salesforce components (e.g. displaying search results in Salesforce) and offers Heidelberger Druckmaschinen the possibility of implementing additional modules. These include extensions in the form of customer-specific catalogues or machine learning based on customer interactions in the shop (shopping carts, orders, search patterns, etc.).
The Coveo AI is trained with each search query. As a result, the company gains an improved, holistic view of customer behaviour in the final stage of development and can use these insights for personalised marketing and sales measures.
Find out more in our current press release.
Our 5 Reading Tips of the Week
The Importance of Smart Search to Your Site, Your Company and Your Customer [MyCustomer]
From Intelligent Search to Tangible Intelligence: dotSource and Coveo Optimise Search Functions and User Experience [dotSource]
»E-Commerce Potential in B2B« White Paper [dotSource]
Die Suchfunktion im B2B-Shop [ecommerce-berater]