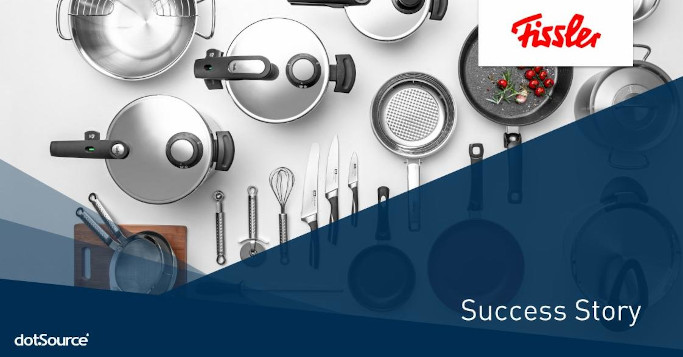 One does not have to participate in »Das perfekte Dinner« (The Perfect Dinner) to appreciate the value of good cookware. Amateur chefs all over the world know how annoying low-quality pots, pans and knives can be. Especially if they are treated a little harsher when cooking, they quickly get blunt blades or deep scratches, which start to rust after the third rinse.
This is why households that regularly cook fresh meals like to invest in high-quality products that not only survive a three-course meal but are also a reliable companion for everyday spaghetti dishes, paella pans, sauerbraten or the annual Christmas feast.
The cookware manufacturer Fissler offers just such a premium range of pans, pressure cookers, knives and other kitchen utensils and contributes to people all over the world enjoying cooking with its outstanding »Made in Germany« quality.
Find out in our new »User-Centric Content Commerce Plattform for Successful and Long-Lasting Customer Relationships« success story how Fissler has managed to meet its quality standards on a digital level.