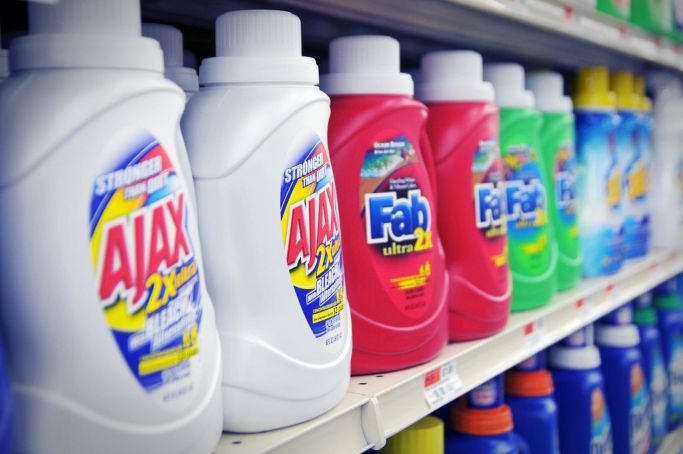 Hard times for the FMCG branch: the average growth rate of the 50 strongest consumer goods producers in the world is in decline for the second consecutive year since 2014. Growth has shrunk from a subdued 2.9% in 2013 to just 1.7%, according to the figures in the 14th edition of the "Trends und Strategien im Konsumgütermarkt" study from OC&C Strategy Consultants.

Nestlé still in the lead
This doesn't mean that the big players' profits are necessarily suffering. In 2014, Nestlé reached a turnover for 100 milliard US dollars for the first time. The Swiss conglomerate has been leading the rankings of the 50 largest FMCG producers for years.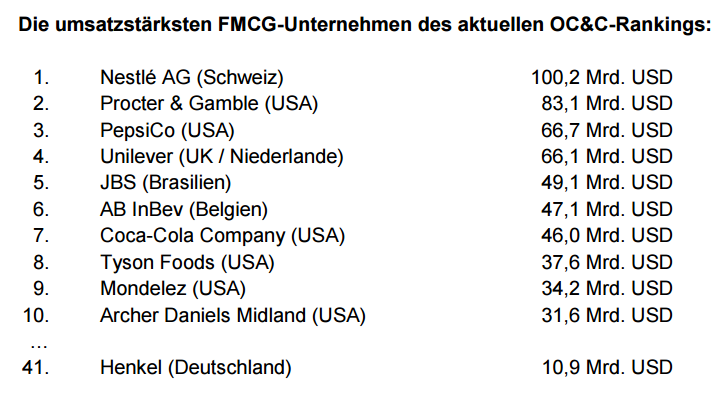 David and Goliath: when company size becomes a competitive disadvantage
According to the study, the weak growth development in the FMCG sector can be put down to an increasing lack of flexibility in branch giants. While small companies can react to local trends and customer desires quickly, the institutional structure of large companies is an obstacle to growth: large companies' lengthy decision-making processes and a lack of innovation is opening up possibilities for smaller competitors to secure a market share more and more.
This is the typical starting position of brands, which could be "disrupted" by start-ups with digital business models. Fittingly, we can also see that smaller players are seizing the opportunity:
» "Last year, the success of local players could be seen most clearly in the BRIC states. Many smaller competitors adjusted to changed market conditions here and sometimes prevails against very sedate FMCG giants. Additionally, small companies in particular are profiting from global online trade and direct customer access."

Dr. Ludwig Voll, Partner at OC&C Strategy Consultants – in translation «
Local players make use of the giants' weaknesses
The success stories of ambitious local players have very different causes:
Finnish cosmetics company Lumene has positioned itself in relation to global giants like L'Oreal skincare and Nivea by using its Scandinavian origins.
French water producer Cristaline freed itself from the cost intensive single source strategy normal in the branch, achieving greater leaps in profit.
With their online campaign and strategic partnerships (incl. Starbucks), cosmetic company Burt's Bees built up their brand to the mass market.
Innocent created a strong market core with their unique smoothies. They now belong to Coca-Cola.
Method, a US-American for environmentally friendly cleaning products, cooperates with individual traders to quickly raise brand viability with relevant target groups.
M&A activities secure turnover growth
In the past years, fusions and take-overs have secured the success of brand giants. A look at the transaction values shows that activities in the area of beers and spirits shows that they were the highest, with a good 10 milliard USD for five transactions. The acquisition of Sexy Hair Concepts, Alterna, and Kenra Profession which were taken over by TSG consumer partners for 270 million Euros, are among the 20 largest deals of the year 2014.
The growing power of Chinese competitors is also visible in the rankings: after Tinhyo reached a place in the top 50 FMCG rankings for the first time in 2013, the Chinese WH Group followed in 2014 and ranks on place 17.
The most important results in summary:
Nestlé has the highest turnover of the FMCG companies, with 100.2 milliard US dollars
Procter & Gamble, PepsiCo and Unilever are on places 2-4
Henkel, the only German company is on place 41, with a turnover of 10.9 milliard US dollar(↑1 compared to 2013)
The top 50 only grew by 1.7 percent in 2014 (-1.2 percentage points compared to 2013)
Branch giants are losing market shares to local players
Chinese meat producer WH Group reached the top 50 through fusion for the first time