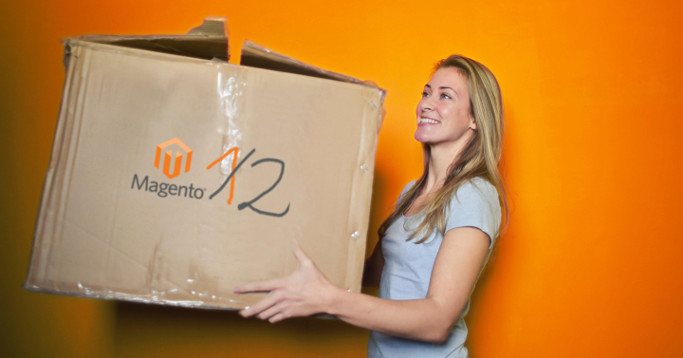 The word migration usually does not arouse much enthusiasm, mainly because of the great effort behind it. However, this does not change anything about the fact that it is necessary. It is also true that the shop migration should be seen as an investment in the future – despite (or even more so because of) its often gigantic extent – since the migration is an excellent opportunity to modernise the existing commerce solution, which had reached its limits, in a competitive and future-proof way.
And if a provider removes a solution from its portfolio, you have no choice anyway but to deal with the topic and make the best of it – just like everyone whose shop has been based on Magento 1 so far. Because it will soon be a thing of the commerce past. Once and for all. From June 2020, Magento will no longer offer support for Magento Commerce 1, Magento Open Source 1 as well as older Magento Commerce 2 versions. So, dear shop operators with old Magento versions: migration is no longer optional, but obligatory.
For those who want to continue using Magento, we have summarised all the important information and tips for a successful shop migration in this article. Obviously, switching the provider is also an option worth evaluating, but this is a topic for another article 😉
1. Evaluate the Initial Situation
Assuming that you are reading this article now and become aware of the time you have left to start the migration, we remind you that it is important that you plan and carry out an evaluation of your online shop's performance from now on. Answering the following questions will help you to achieve this:
How high is the website speed and its peak load?
How quick and complex are the internal deployment and development processes?
Can the e-commerce solution even be developed further?
Can features and functionalities be expanded if necessary?
How high is the conversion rate?
Are the website's design and user experience modern and user-friendly?
If you know exactly what the status quo of your solution is, where it reaches its limits and what has to be improved/updated, then you should think about the new possibilities that arise from the web shop migration.
2. Recognise New Structures
The migration from Magento 1 to Magento 2, or rather to 2.3., is not just an upgrade. The structure has to be re-built completely (replatforming). You can thus use this transformation to adjust your own digital strategy and fulfil the requirements of regular and new customers even better. Do you want to open up new markets and focus on new target groups? Do you want to grow sustainably? What kind of technology is required for this?
For example, if you want to impress a younger target group, a modernisation of the look & feel and a functioning fusion of content and commerce are a must. Then again, if you want to integrate new brands or platforms in the future, scalability and flexibility become much more important.
With its global community and its enormous number of extensions, Magento updates offer ideal conditions for the implementation of a profitable and expandable solution because they allow for:
Better scalability and performance: modern architecture, easier development and operation, better SEO
Staying up-to-date technically: an example is PHP 7.2
Better (mobile) user experience with PWA Studio
User-friendly content creation and management with Page Builder (also for users that have no/little technical know-how)
Necessary security updates: Google reCAPTCHA validation to control spam registration as well as two-factor authentication for the admin account
Managing multiple stocks with the Multi Source Inventory (MSI) feature
3. When Time is Short: Agile Methods as a Success Factor!
In view of a tight deadline, it is advisable to use agile approaches to set priorities, distribute work in a better way and ultimately stick to the go-live date.
The prioritisation through short development cycles (one to two weeks), for example, allows you to identify and retain the most important data first or finish essential features as quickly as possible.
Using agile methods in complex projects, which are to be completed under high time pressure, also offers development teams the following advantages:
they create transparency and facilitate decision-making processes through daily exchange in stand-up meetings.
progress can therefore easily be controlled and managed.
problems in the project can also be recognised more quickly thanks to regular feedback in meetings and short sprints. This, in turn, allows for the continual implementation of optimisation measures.
4. Foster and Promote Team Spirit
As helpful as agile methods are for the quick implementation of complex tasks, as decisive they are for the communication between all participants in order to avoid silos. Team spirit and the exchange of ideas have to be constants within the workflow.
The use of digital communication applications as well as daily and interactive meetings promote regular feedback within the team and ensure smooth approval processes. Furthermore, they prevent misunderstandings and allow you to recognise errors at an early stage.
5. Future-Proof Through Continuous Development
After 2.3., there is update 2.4. The migration does not end with the go-live date. It is important to have a vision for the future and a project that continually works on the development of the online shop and thus contributes to the growth of the company. The use of agile methods helps, but does not guarantee that this will happen.
The project team has to think outside the box. To stay relevant, it is not worth leaving the next update for a few years. It has to be in the pipeline from the beginning of the project.
Our 5 Reading Tips Of The Week
Mövenpick Wein – Ein Nutzererlebnis, das ewig im Gaumen bleibt
Digitale Kompetenz ist mehr als Coding Skills: Wie man Mitarbeiter motiviert, ihr Wissen zu teilen
Conversion Optimisation: A Checklist for More Success [Part 4]
Agile project management – Neither faster, nor cheaper, only better!